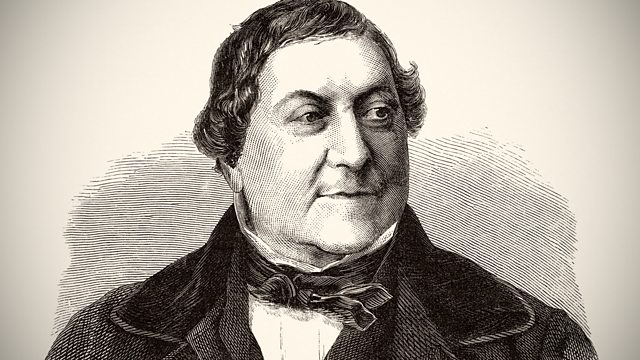 Genius in All Its Naivete
Rossini was never coy about re-using his own material. He was a practical man of the theatre, and where he thought an audience wouldn't have heard something before, he had no sense of shame about bringing it into play in a different context. This self-plagiarism was partly due to the sheer number of commissions he took on and the speed with which he turned them around. He once remarked: "The time and money allowed me for composing were so small that I scarcely had time to read the libretti I had to set." In this programme Donald Macleod focuses on the operas that first made Rossini world famous, including Tancredi and Elizabetta Regina d'Inghilterra.
Rossini: Sinfonia in D, 'Al Conventello'
Prague Philharmonic Choir & Prague Sinfonia Orchestra, conducted by Christian Benda
Rossini: Tancredi ("Oh patria..." & "Di tanti palpiti..."
Marilyn Horne, mezzo-soprano (Tancredi)
Orchestra and Chorus of Teatro la Fenice, conducted by Ralf Weikert
Rossini: L'Italiana in Algeri (Act 1, finale)
Lorenzo Regazzo, bass (Mustafa); Marianna Pizzolato, mezzo-soprano (Isabella); Ruth Gonzalez, soprano (Elvira); Elsa Giannoulidou, mezzo-soprano (Zulma); Lawrence Brownlee, tenor (Lindoro); Bruno de Simone, baritone (Taddeo)
Transylvania State Philharmonic Orchestra, conducted by Alberto Zedda
Rossini: Elizabetta Regina d'Inghilterra (Act 1, Sc 2)
Jennifer Larmore, mezzo-soprano (Elisabetta); Bruce Ford, tenor (Leicester); Antonino Siragusa, tenor (Norfolk); Majella Cullagh, soprano (Matilde)
London Philharmonic Orchestra, conducted by Giuliano Carella
Rossini: The Barber of Seville, Overture
The King's Singers.
On radio
The absurdly talented Herr Mendelssohn