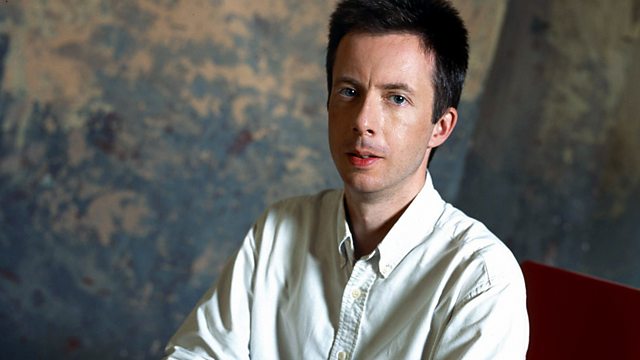 18/02/2014
Trumpeter Hakan Hardenberger and the Suisse Romande Orchestra at the Victoria Hall Geneva in concertos for trumpet and piano by Jolivet and Shostakovich. Presented by John Shea.
12:31 AM
Jolivet, Andre [1905-1974]
Concertino for Trumpet, Piano and String Orchestra
12:42 AM
Shostakovich, Dmitri [1906-1975]
Concerto for Piano, Trumpet and String Orchestra (Op.35) in C minor
Hakan Hardenberger (trumpet), Roland Pontinen (piano), Orchestre de la Suisse Romande, Kazuki Yamada (conductor)
1:05 AM
Bartok, Bela [1881-1945]
Dance Suite for Orchestra (Sz.77)
1:24 AM
Stravinsky, Igor [1882-1971]
Petrushka (1911 version)
Orchestre de la Suisse Romande, Kazuki Yamada (conductor)
2:00 AM
Shostakovich, Dmitri (1906-1975)
7 Dances of the Dolls (Op.91c) arr for wind quintet ; Danse]
Bulgarian Academic Wind Quintet
2:12 AM
Leontovitch, Mykola (1877-1921) / Kountz, Richard (b. 19??), arr. Cable, Howard
Carol of the Bells & The Sleigh à la Russe arranged by Howard Cable in 1992
The Toronto Children's Chorus, Members of the Toronto Symphony Orchestra, Judy Loman (harp), Jean Ashworth Bartle (conductor)
2:16 AM
Prokofiev, Sergey (1891-1953)
Russian Overture (Op.72)
BBC Philharmonic Orchestra, Vassily Sinaisky (conductor)
2:31 AM
Darzins, Emils [1875-1910]
Melanholiskais valsis (Melancholy waltz) for orchestra
Latvian National Symphony Orchestra, Leonids Vigners (conductor)
2:38 AM
Nielsen, Carl (1865-1931)
Symphony No.2 (Op.16) 'The Four temperaments'
Bergen Philharmonic Orchestra, Ingar Bergby (conductor)
3:11 AM
Busoni, Ferruccio (1866-1924)
Finnlandische Volksweisen (Finnish Folksong arrangements) for piano duet (Op.27)
Erik T. Tawaststjerna and Hui-Ying Liu (pianos)
3:22 AM
Bach, Johann Sebastian (1685-1750)
Violin Concerto in E major (BWV.1042)
Sigiswald Kuijken (violin and conductor), La Petite Bande
3:40 AM
Schubert, Franz (1797-1828)
Der Musensohn (D.764) (Op.32 No.1) (Son of the Muses)
3:42 AM
Schubert, Franz (1797-1828)
Meeres Stille (D.216) (Op.3 No.2) (Quiet Sea)
Christoph Prégardien (tenor), Andreas Staier (fortepiano)
3:45 AM
Debussy, Claude (1862-1918)
La Mer ? trois esquisses symphoniques
Orchestre National de France, Evgeny Svetlanov (conductor)
4:14 AM
Couperin, François (1668-1733)
La Françoise, Trio Sonata from 'Les Nations'
Les Ambassadeurs, Alexis Kossenko (director)
4:21 AM
Dubois, Pierre Max (1930-1995)
Quartet for flutes
Valentinas Kazlauskas, Lina Baublyte, Albertas Stupakas, Giedrius Gelgoras (flutes)
4:31 AM
Veremans, Renaat (1894-1969)
Nacht en Morgendontwaken aan de Nete ? in memoriam Felix Timmermans 31.7.1957
Vlaams Radio Orkest , Bjarte Engeset (conductor)
4:42 AM
Albright, William Hugh (1944-1998)
Dream rags (1970): Morning reveries
Donna Coleman (piano)
4:49 AM
Ravel, Maurice [1875-1937]
Daphnis and Chloe - Suite No.2
Rotterdam Philharmonic Orchestra, Valery Gergiev (conductor)
5:06 AM
Britten, Benjamin [1913-1976]
Early One Morning
Elizabeth Watts (soprano), Paul Turner (piano)
5:10 AM
Haydn, Joseph (1732-1809)
Symphony No.6 in D major (H.1.6) 'Le Matin'
Swedish Radio Symphony Orchestra, Esa-Pekka Salonen (conductor)
5:31 AM
Schumann, Robert (1810-1856)
Gesänge der Frühe (Op.133)
Sylviane Deferne (piano)
5:46 AM
Strauss, Richard (1864-1949)
Morgen (Op.27 No.4)
Yvonne Kenny (soprano), Lazar Shuster (violin), Melbourne Symphony Orchestra, Vladimir Kamirski (conductor)
5:50 AM
Grieg, Edvard (1843-1907)
Peer Gynt, Suite No.1
Danish Radio Concert Orchestra, Roman Zeilinger (conductor)
6:05 AM
Liszt, Franz [1811-1886]
Hymne de l'enfant a son reveil for female chorus, harmonium and harp (S.19)
Éva Andor (soprano), Hédi Lubik (harp), Gábor Lehotka (organ),
The Girl's Choir of Gyõr, Miklós Szabó (conductor)
6:16 AM
Wagner, Richard (1813-1883)
Prologue: Dawn Music & Siegfried's Rhine Journey from Götterdämmerung
Royal Concertgebouw Orchestra, Riccardo Chailly (conductor).
Last on