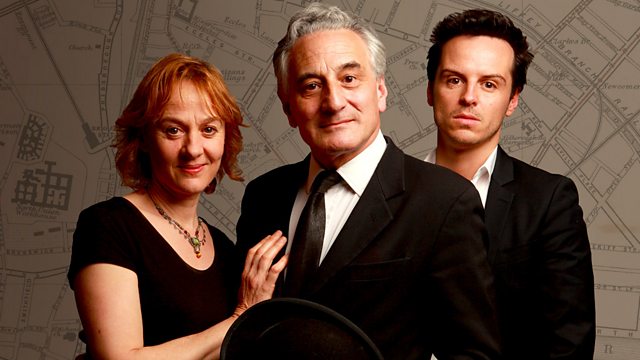 16th June 1904: Stephen Dedalus and Leopold Bloom's Dublin days unwind. With Henry Goodman, Andrew Scott and Stephen Rea.
8am: 'Stately plump' Buck Mulligan calls Stephen Dedalus to the top of the Martello tower overlooking Dublin Bay - and so begins James Joyce's celebrated account of the 16th June 1904. The combined stories of Stephen and Leopold Bloom as they meander through the city. Dramatised by Robin Brooks.
8.15am: Stephen Dedalus breakfasts with Mulligan and the Englishman Haines before walking out along the strand to the swimming place at Forty Foot Hole.
10am: Stephen Dedalus collects his wages from Headmaster Deasy, who wants Stephen to deliver a letter about the recent outbreak of Foot and Mouth disease to the editor of the Evening Telegraph.
8am: 7 Eccles Street, Dublin. The home of Leopold and Marion (Molly) Bloom. Bloom, we are told, 'eats with relish the inner organs of beasts and fowls' and cooks himself a pork kidney for breakfast. While Molly receives a letter from concert promoter Hugh 'Blazes' Boylan who has arranged to visit her later in the day, Bloom prepares to attend Paddy Dignam's funeral at Glasnevin cemetery.
11am: Stephen walks on Sandymount Strand before visiting the offices of the Evening Telegraph, where he catches a glimpse of advertising salesman Leopold Bloom. Stephen takes the Editor out for a drink, while Bloom slips into Davy Byrne's pub for a cheese sandwich.
Last on
More episodes
Previous
You are at the first episode