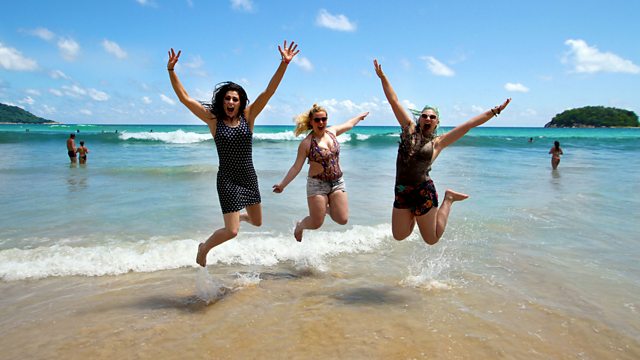 Two young people head to the beautiful and hedonistic Thai island of Phuket for what they think is their first ever holiday away from their parents, but what they don't know is that their parents will be there too, spying on the sly and watching everything they get up to.
In Bristol, mummy's girl Jo is getting ready for the holiday of a lifetime with best friends Shaz and Natalie, away from her overprotective mum. Jo takes it easy around the house, but she's a lot more active on a night out partying and her parents have no idea what she gets up to. Mum thinks Jo will be sensible, but stepdad Rob isn't so sure.
Over in Newcastle, student John's parents also have no idea what's going on in their son's life, but are determined to find out. John is a party boy who likes the ladies and is quite happy taking money off his parents for a night out, doing very little to earn it. Friends Matthew and Andrew are going with him as pulling buddies.
The boys arrive in Phuket and it's already proving to be an eye opener. They hit the strip and the constant attention from the waitresses make them feel sure they will get lucky, but they slowly start to realise that these women may not actually find them irresistible and may actually be looking for business. Matthew is gutted when he thinks he's pulled the woman of his dreams only to find out that she is not allowed into their hotel.
The girls are also finding the intense partying on Phuket's Bangla Road slightly overwhelming, but it's nothing a few drinks won't fix. During the night Jo is not feeling well and wishes her mum was there to look after her. What she doesn't know is that mum really is there and about to watch last night's footage.
There are tears of emotion and changes of attitudes from the parents as they watch their children and realise that they are not who they thought they were.
Last on
Credits
| Role | Contributor |
| --- | --- |
| Executive Producer | Jo Scarratt-Jones |
| Series Producer | Blake McGrow |