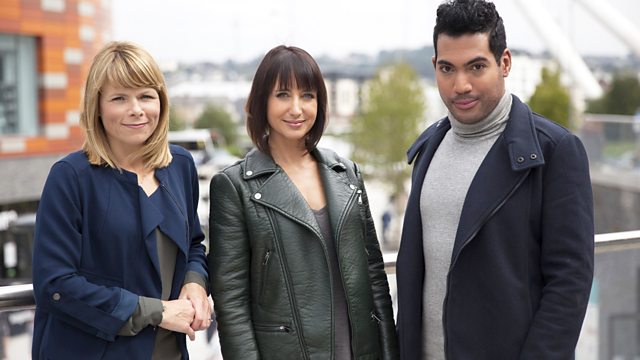 As X-Ray returns for a new series, things turn nasty after Rachel confronts a second-hand car dealer who swears at his customers and threatens them. She needs the help of security guards to get off the site. Rachel also goes behind the scenes of a massive investigation into fraud at a Welsh call centre which tricked people into paying for bogus satellite TV warranties, while Rhodri uncovers a network of companies out to take people's money when they apply for government services online.
Lucy meets the man who can't get a bank account because bungling bankers have confused him with someone else. After eight months he still can't get the problem solved. Plus, viewers' complaints about the increasing use of time limits at car parks in out-of-town shopping centres.
Last on
RK Transport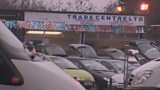 Customers of a garage in Cwmbran have told X-Ray how the cars they bought went wrong almost immediately – and then when they tried to complain the owner was abusive and threatening. They're all customers of the RK Transport Trade Centre and its owner Rob Knight.
Michelle and William Perry, from Llandybie near Ammanford,  bought a Ford Galaxy there last summer for just over £2,000. Michelle said: "We went about three miles, I think it was, and Will said it's starting to overheat. He could see the temperature gauge going up. We kept going for a little bit, then all the  lights started flashing."
The car went straight back to the garage, with Rob Knight promising to put everything right. But a week after they picked it up again, the fault was back. Michelle said: "I  thought, Oh no, not again, please not again."
By now Rob Knight was proving elusive, not responding to phone calls or texts, so the couple decided to drive the overheating car back to his garage to ask him to repair it again. Michelle said: "He came out of the office…with three or four men standing behind him, so Will got out of the car to have a word with him and he said what are you doing here, why did you drive that car back here. You shouldn't be driving it. "You can't televise what he was saying. Abusive, arrogant,  and just threatening."
The Perrys are not alone in having problems with the RK Trade Centre. Shani and Aaron Carter, from Cwmbran, bought a Renault Megane there for two thousand pounds last year. Shani said: "A week or two later,  I went to get in the car. I started up the car and as I started it up it just died." The car kept cutting out and RK Trade Centre kept repairing it, but each time the fault would reappear. On the last occasion Shani got a very different reception from Rob Knight at the garage.
Shani said: "I had my four year old boy with me at the time who was also sat in the car. He was very much in my face…and then if he wasn't in my face, he would be charging back and forth shouting obscenities, you know swearing to get off his forecourt  and I just thought, It's not worth this with my son here."
John Bidhendy, from Newport, is another unhappy Rob Knight customer. He complained after the Renault Scenic he bought had faults when it was delivered to him last August. John said: "I received the phone call from Rob, the manager, finally, but it wasn't what I expected. He was being really threatening towards me. He said you could either come up here and we'll sort you out, or me and the boys could come to your house and we'll sort you out..."
X-Ray contacted Mr Knight to put these allegations to him, but he refused to comment. X-Ray reporter Rachel Treadaway-Williams also went looking for him at his garage, but he ran away when he saw our cameras.
Check and send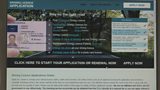 Claire Williams from Pontarddulais ended up paying double the price for her son's provisional driving licence after signing up with a "copycat" website.
A few weeks before son Daniel's 17th Birthday Claire went online and clicked on what she thought was the official DVLA website. "I typed in driving licence application in Google and it came top of the search engine and I just clicked in," she said.
Claire filled in the details, paid the £50 charge and waited for the licence to come through. But it didn't. A few days later she was sent the form from the DVLA along with another request of £50, this time for the actual licence. What Claire hadn't realised was that she had paid the initial £50 to a company who did nothing more than fill the form in for her.
The people behind the website Claire used – drivinglicence.uk.com – also run companies which provide so-called "check and send" services for tax returns, passports, European health cards, National Insurance numbers and US immigration documents.
The director of a company behind several of these sites told us that there was nothing misleading about the sites and that they provide good value for money.
But if you want to make sure you go to the official website rather than a middleman you should:
• Beware that the websites which come out at the top of internet searches are often adverts and not official sites;
• Any official British government website should have an address containing the phrase .gov.uk;
• All official websites will have addresses beginning https:// at the point you enter personal data. Some copycat sites have these security measures so it is not guaranteed to be an official site. But if you are asked to enter data into a site beginning http:// you should be careful. 

Aurora Logistics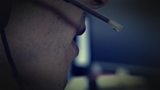 It was a story that featured on X-Ray almost three years ago and prompted scores of viewers to come forward. After a lengthy Trading Standards investigation, a Swansea gang of call centre conmen who tricked vulnerable customers out of hundreds of thousands of pounds now face lengthy jail sentences.
Jonathan Stockting, Jordan Diment and Paul Delamare, who were behind a network of companies tricking people into buying SKY TV insurance, admitted conspiracy to defraud at Swansea Crown Court, along with 11 others.
It was 2011 when X-Ray first reported the scam and scores of viewers came forward, including Val Morris from Abergavenny. Mrs Morris explained how she had been contacted by a salesman from a company called Aurora Logistics. The Aurora salesman told Mrs Morris he was calling about her Sky television and conned her into paying £80 for an insurance policy she did not want or need.
The staff of the company, which was run by Delamare, were often pushy and rude. They also took advantage of elderly and vulnerable people. With the weight of X-Ray viewers' evidence behind them, Swansea Trading Standards raided a call centre relating to the network of companies. Call recordings were seized and some of the call centre staff were arrested, along with gang leader Jonathan Stockting.
Rhys Harries, Swansea Trading Standards' lead officer in the case, said: "One of the directors was remotely deleting all the company files and we believe all the call recordings. Unfortunately for them we were able to gain access and recovered everything."
Trading Standards then embarked on Operation Bugs, a major investigation that pieced together links between a host of firms. Officers listened to over 100,000 sales calls that linked back to more than 7,000 customers.
The investigation led to the prosecution of 14 people involved in the cold calling scam. The three leaders, Stockting, Diment and Delamare, along with 11 others, admitted conspiracy to defraud and will be sentenced later this month.
Three years on and X-Ray reporter Rachel Treadaway-Williams went back to Mrs Morris' home so she could listen to the cold call that tricked her into handing over her card details. "I'm still shaking now," she said, after listening to the call. "It's the realisation of how vulnerable we are. How very vulnerable."
What's In A Name?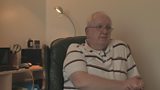 When X-Ray viewer David Evans was financially linked to another man via his credit report, it lead to problem after problem. He was chased for debt he didn't owe and ultimately it had a negative impact on his own credit rating, meaning he couldn't open a bank account.
Jason Roberts is a debt advisor with the charity Step Change. He told X-Ray's Lucy that things like this shouldn't happen, "…there are guidelines and protocols in place for all financial companies that they have to follow in order to make sure that they have got the right person – it's actually a responsibility of theirs to make sure that things like this don't happen".
Banks, Creditors, Debt Collection Agencies and Tracing Agents use all sorts of databases to attempt to find people and as Jason says, "…once his address has been linked on the credit reference report it's free for any financial institution, collection agency or tracing agent to see and that is why they have been chasing him…they have found both David Evans with the same date of birth and assumed that they are one and the same". 
So here's what you should do. If you get a letter from a debt collector or tracing agent asking if you are someone you are not, the advice is to not ignore it, "…That's very important because the other company is just going to assume that because you are not replying that it is you, so contact them let them know it's not you so that they can move on and leave you alone."
And if you think something has gone wrong on your credit rating and you've been linked to someone else, Jason's advice is, "approach the lender. If you're not happy with what the lender is saying initially, report it to the credit reference agencies so that it can be marked on your file as a dispute. Then if the complaint to the lender hasn't been resolved within eight weeks, make a complaint immediately to the Financial Ombudsman Service.
Other Useful Websites:
The Credit Services Association is the trade body for debt collection companies and holds its own Code of Practice.
The OFT has issued the following guidance regarding debt collection agencies.
Debt charity Step Change offers free debt advice.
Both Experian and Equifax offer people the chance to look at their statutory credit report for £2.

Credits
| Role | Contributor |
| --- | --- |
| Presenter | Lucy Owen |
| Presenter | Rhodri Owen |
| Reporter | Rachel Treadaway-Williams |
| Series Producer | Nick Skinner |