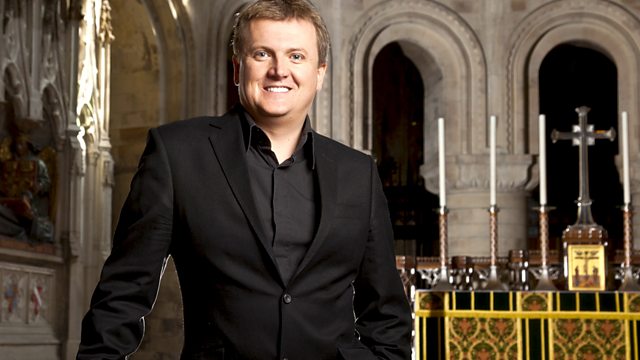 Chinese New Year
Aled Jones visits London's Chinatown and introduces hymns from St Martin-in-the-Fields, a church with its own congregation of Chinese Christians, together with a performance by cellists Julian Lloyd Webber and his wife Jiaxin.
Last on
Factsheet for Sunday 2nd February 2014
Chinese New Year: Aled Jones visits London's Chinatown and introduces hymns from St Martin-in-the-Fields, a church with its own congregation of Chinese Christians, together with a performance by cellists Julian Lloyd Webber and his wife Jiaxin.   Most of the hymns in this programme are from Songs of Praise's last visit to St Martin-in-the Fields in 2009, which was to celebrate the church's programme of redevelopment and renewal.  
INTERVIEWEES
The Rev. Paul Lau
Associate Vicar for the Chinese Congregation at St Martin-in-the-Fields.
The Rev. Dr Sam Wells
Vicar of St Martin-in-the-Fields and a contributor to Thought for the Day on BBC Radio 4.  He has served as a parish priest for 15 years – 10 of those in urban priority areas. He also spent 7 years in North Carolina where he was Dean of Duke University Chapel. Sam is also Visiting Professor of Christian Ethics at King's College, London. He has published 20 books, including works on Christian ethics and collections of sermons.
Ekie Wong
Interviewed in 2009: Ekie Wong is still deputy churchwarden at St Martin's and deputy chair of the Chinese congregation.
Fontine Lee
Interviewed in 2009:  Fontine is the granddaughter of the founder, The Rev. SY Lee.  The Rev. Lee was sent to St Martin's by Bishop Hall of Hong Kong back in 1964 to start ministering to the Chinese and the Lee family are still connected with the church.
 Chris To
Interviewed in 2009: Chris has been part of the Chinese congregation since he was born. His parents got married at St Martin's-in-the-Fields. Chris went to Sunday school and a Chinese language class and as he got older, he and his sister helped with the youth fellowship and Sunday school.
Min Yin
Min Yin is a Missionary with COCM (Chinese Overseas Christian Mission). She is also a graduate of University College, London and on Wednesdays Min runs a fellowship group at UCL, with Chinese students (she was filmed leading a prayer meeting with fellow Chinese Christian students at UCL).  Min became a Christian when she came to England as a student to study in Nottingham and explains how churches use Chinese year as an evangelism opportunity.
David Hopkin- Trumpet Player
David grew up in Bury, Lancashire, and studied the Trumpet at Chetham's School of Music and Wells Cathedral School. In 2001 he moved to London to continue his studies at Trinity College of Music where he was awarded the Archer's Scholarship. He then progressed to the Royal Academy of Music where he studied with James Watson and Howard Snell for his postgraduate diploma. Since graduating, David has enjoyed a busy and varied freelance career. He has performed with the Royal Philharmonic Orchestra and Bournemouth Symphony Orchestra and has played and recorded with many different artists. These include Frankie Valli, Sir Cliff Richard, Dexy's Midnight Runners, Muse, Blue, Imogen Heap, Tim Minchin and many more. David is a regular in the West End, performing on hit shows Jersey Boys, Billy Elliot and Top Hat and has toured the UK with Spamalot, Legally Blonde, West Side Story and Quadrophenia. He has also worked with many big bands including the world famous Syd Lawrence Orchestra. David has been principal Trumpet at the Thursford Christmas Spectacular since 2010, which lead to him being invited to play with the Focus Opera company. He regularly records for the BBC and can often be seen playing his Trumpet on 'Songs of Praise'.
Noael Tredinnick- Conductor
As a conductor of orchestras and choirs, Noël is in demand worldwide. In addition to working in all the major concert venues in the UK, he has conducted at the Sydney Opera House, the Conservatorium of Music in Moscow, the Sky Dome Stadium in Toronto, the Kravis Center in Palm Beach, St Michael's Cathedral in Brussels, the Festival Hall in Varna, the City Hall in New York and beside the Sea of Galilee in the Holyland.
Through his involvement with the BBC's Songs of Praise, millions are aware of his work. Locations have been as varied as the No. 1 Court at Wimbledon tennis, Wormwood Scrubs prison, under the Blackpool Tower, by the Atlantic Ocean in Florida, on the Thames on HMS Belfast, inaugurating the new Channel Tunnel, as well as celebrating the Olympic Games in Atlanta and Sydney.
Since 1972 he has been Organist and Director of Music at All Souls, Langham Place. Three years later he began working as a Professor at the Guildhall School of Music & Drama, and still teaches conducting, orchestration and music awareness.
In 1987 he was appointed Artistic Director of the Langham Arts Trust to develop the expanding ministry of the All Souls musicians in concerts, publications and recordings. His work with the All Souls Orchestra and Prom Praise has been a major influence and pleasure to audiences and conductor alike.
In March 2002, Noël was awarded an Lambeth/Oxford Doctor of Music degree.
Credits
| Role | Contributor |
| --- | --- |
| Presenter | Aled Jones |
| Producer | Rowan Morton Gledhill |
| Executive Producer | David Taviner |
| Performer | Julian Lloyd Webber |
| Performer | Jiaxin Lloyd Webber |