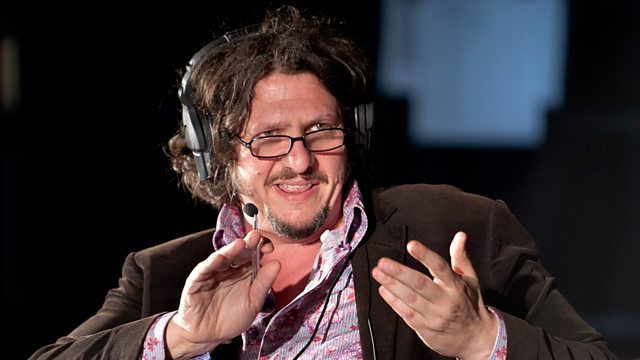 Jay Rayner Gets Stuffed
Food writer and restaurant critic Jay Rayner is known for banging on about the awful - and sometimes lovely - things that cooks do to blameless ingredients. Here, he offers up a few of his own. In a personal selection of deliciously fat-drenched, gut-busting grub-related radio, he looks back and celebrates decades of us mucking around with our food.
Jay's choices include: a generous helping of loudmouth chef Anthony Bourdain; a rare appearance from Elizabeth David on The Food Programme; Keith Floyd starring as a Roman chef in a late-night R4 comedy; and Nina Myskow talking to essayist David Sedaris, children's author Judith Kerr and dancer Carlos Acosta about what they really eat. There's a dash of Miles Jupp as Damien Trench, In and Out of the Kitchen; a pinch of sarcasm with The Sunday Format on Gastronimity. We hear from a Philadelphia deli in award-winning documentary One Big Kitchen Table, from a Radio 2 phone-in about the chicken shop with Vanessa Feltz, and from the world of competitive American barbecuing with Russell Davies in You Is What You Eat. "Hog lard, of course that's what killed my grandfather... at 94," says a pork-loving chef from the American South.
Made by Testbed Productions for BBC Radio 4 Extra.