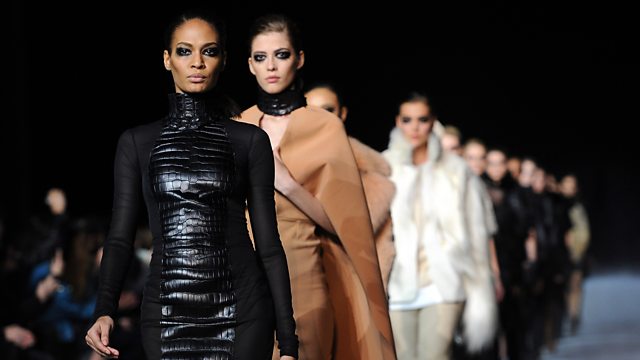 Colour on the Catwalk
Sarah Jane Crawford invites you to join her for a seriously stylistic look at the model life - the glamour, the glitz and the realities of being a model when you're not white. Amidst controversy that says modelling is still a white girl's game, Sarah asks whether the industry is changing its attitudes to ethnic diversity.
We'll be getting an exclusive behind-the-scenes look at the fast-paced world of modelling at huge fashion event the Clothes Show Live, spending the day with one of the UK's most successful models - Jade Thompson. When Jade won Britain and Ireland's Next Top Model in 2011 her life completely changed. Today she's the face of the Clothes Show Live, regularly models for Professor Green's clothing range and can be seen on 15 ft high billboards across London. She's also mixed race, with a striking combination of red hair and freckles.
And we'll be on a photo shoot with male model Dudley O'Shaughnessy, who shot to fame when he starred alongside Rihanna in the video for We Found Love.
Along the way, Sarah Jane takes a look at one of the biggest stories in the fashion world over the past few months. Recently the fashion industry has hit the headlines for the wrong reasons. The world's biggest models say they've faced discrimination and, at its worst, what they call racism. Arguabley one of the world's most beautiful, Jourdan Dunn has spoken out about discrimination from make-up artists and being dropped from catwalk shows because of the colour of her skin. Supermodel Naomi Campbell has accused the industry of not booking enough black models, or models of any other colour than white, and says this is coming across as a 'racist act'.
This is all against the backdrop of more encouraging signs. Last year global luxury brand Prada announced they would be using their first black campaign model in a decade. And, as a result of pressure during New York fashion week in the Autumn, there were more black models than in recent years. Pressure is mounting. Perhaps things are ripe for change?
Last on