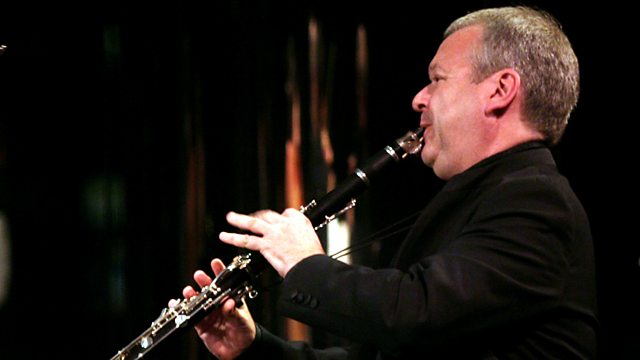 Michael Collins - Brahms, Weber, Lutoslawski, Muczynski, Horovitz
Michael Collins and Michael McHale play classics of the clarinet repertoire. Music by Brahms, Weber, Bernstein, Lutoslawski, Muczynski & Horovitz.
Clarinettist Michael Collins's dazzling virtuosity and sensitive musicianship have made him one of today's most sought-after soloists. Tonight he joins Petroc Trelawny for an evening of music recorded last month at St Paul's Hall, University of Huddersfield, along with some of the works that have inspired him most.
Brahms: Clarinet Sonata No.1 in F minor, Op 120 No.1
Weber: Grand Duo Concertante
Bernstein: Clarinet Sonata
Lutoslawski: Dance Preludes
Muczynski: Time Pieces
Horovitz: Sonatina
Michael Collins, clarinet
Michael McHale, piano
"Collins dazzles like a bel canto diva in the pyrotechnic leaps, trills and runs" (Sunday Times).
Last on