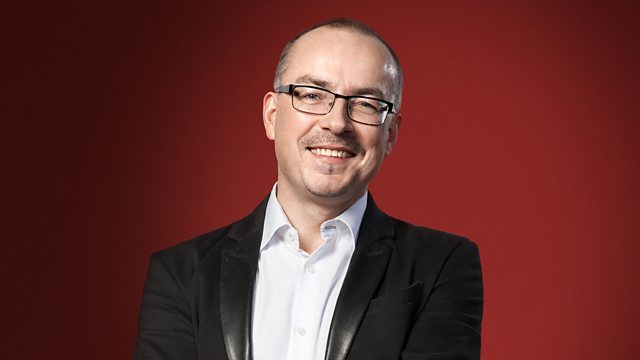 Building a Library: Vaughan Williams: Symphony No. 9
Presented by Andrew McGregor. Featuring Building a Library on Vaughan Williams' 9th Symphony, plus Martin Cotton talks to Andrew about recent releases of chamber music.
Last on
9.05am
Il Diario di Chiara
PORTA: Sinfonia for trumpet, strings and continuo in D
VIVALDI: Sinfonia in G major RV149; Concerto pour violon RV 372 "Per Sigra Chiara"
PORPORA: Sinfonia a tre in G
MARTINELLI: Concerto for Viola d'amore and strings in D 'Per la S.ra Chiaretta'; Concerto for Violin in E 'dedicato all S.ra Chiara'
LATILLA: Sinfonia in G
PEROTTI: Grave for Violin and Organ in G minor
BERNASCONI: Sinfonia for strings in D
Europa Galante, Fabio Biondi (conductor)
GLOSSA GCD923401 (CD + DVD)
The Proud Bassoon
ANON: Les Gentils Airs
BOISMORTIER: Bassoon Sonata in G Op. 50 No. 2; Bassoon Sonata in E minor Op. 50 No. 1
FASCH: Sonata in C for Bassoon and Basso Continuo
COUPERIN: Les Gouts reunis
TELEMANN: Sonata in F minor
DUBOURG: Eileen Aroon with variations
Peter Whelan (bassoon), Ensemble Marsyas
LINN CKD435 (Hybrid SACD)
Your Tuneful Voice - Handel Oratorio Arias
HANDEL: Belshazzar: Oh sacred oracles of truth; The Triumph of Time and Truth: Mortals think that Time is sleeping; Esther: Tune your harps to cheerful strains; Alexander Balus: Mighty love now calls to arms; Jephtha: Overture; Ode for the Birthday of Queen Anne HWV74 'Eternal source of light divine'; Solomon: Welcome as the dawn of day; Your tuneful voice (from Semele); The Choice of Hercules: Yet can I hear that dulcet lay; Jephtha: Up the dreadful steep ascending; Samson - Overture; Israel in Egypt: Thou shalt bring them in; Esther: Who calls my parting soul; The Triumph of Time and Truth: On the valleys, dark and cheerless; Esther: How can I stay, when love invites?
Carolyn Sampson (soprano), Iestyn Davies (countertenor), The King's Consort, Robert King (conductor)
VIVAT VIVAT105 (CD)
Conversazioni II - Duelling Cantatas
GASPARINI: Io che dal terzo ciel (Venere e Adone)
CALDARA: Sonata a tre in E minor Op. 1 No. 5
HANDEL: Rondeau in G; Sonata in G; Amarilli vezzosa HWV 82
SCARLATTI: Sonata K63; Questo silenzio ombroso; Sonata K32
Anna Dennis (soprano), Andrew Radley (countertenor), Sounds Baroque, Julian Perkins (harpsichord, organ and director)
AVIE AV2296 (CD)
9.30am Building a Library
Jonathan Swain surveys recordings of Symphony no. 9 by Vaughan Williams and makes a recommendation:
VAUGHAN WILLIAMS: Symphony no. 9
c/w Symphonies Nos. 1-8; Flos Campi; Serenade to Music; Job - A Masque for Dancing; Fantasia on a Theme by Thomas Tallis; Five Variants of 'Dives and Lazarus'; Partita for double string orchestra; Fantasia on Greensleeves; Oboe Concerto in A minor; English Folk Song Suite
Royal Liverpool Philharmonic Orchestra, Vernon Handley (conductor)
EMI CLASSICS FOR PLEASURE 5757602 (7CD budget and download)
10.20am
Christina Pluhar - The Complete Alpha Recordings
Various works with guest soloists
For full details see: www.outhere-music.com/en/albums/l-arpeggiata-christina-pluhar-the-complete-alpha-recordings-alpha-818
L'Arpeggiata, Christina Pluhar (harp, theorbo and director)
ALPHA ALPHA818 (6CD budget)
Bal-kan - Honey and Blood
Hesperion XXI, Jordi Savall (conductor)
Various works
For full details see http://www.alia-vox.com/index.php?get_lang=en
ALIA VOX AVSA9902 (3 Hybrid SACD)
10.45am New Releases
Martin Cotton joins Andrew to talk about recently released recordings of chamber music
SMETANA: String Quartet No. 1 in E minor 'From My Life'
JANACEK: String Quartet No. 1 'The Kreutzer Sonata'; String Quartet No. 2 'Intimate Letters'
Jerusalem Quartet
HARMONIA MUNDI HMC902178 (CD)
GRIEG: Violin Sonata No. 2 in G Op. 13
CHAUSSON: Poeme Op. 25
FRANCK, C: Violin Sonata in A
Callum Smart (violin), Gordon Back (piano)
ORCHID CLASSICS ORC100040 (CD)
Romantic Duos
LISZT: Grand duo concertant sur la romance S. 128; Consolation
BRIDGE: Sonata for violin and piano; Romanze; Heart's Ease
GRIEG: Violin Sonata in C minor Op. 45
Benjamin Schmid (violin), Ariane Hearing (piano)
TWO PIANISTS TP1039299 (CD)
Schumann, Schubert, Brahms
SCHUMANN: Marchenbilder Op. 113
SCHUBERT: Sonata 'Arpeggione' D821
BRAHMS: Viola Sonata Op. 120 No. 2
Lise Berthaud (viola), Adam Laloum (piano)
APARTE AP069 (CD)
Schubert - Arpeggione
SCHUBERT: Sonata in A minor 'Arpeggione' D821
SCHUMANN: Funf Stucke im Volkston Op. 102
DEBUSSY: Cello Sonata
BRITTEN: Sonata C
Gautier Capucon (cello), Frank Braley (piano)
ERATO 9341582 (CD)
KORNGOLD: Sextet for Strings Op. 10; Suite Op. 23 for 2 violins, cello and piano (left hand)
Henri Sigfridsson, Thomas Sleditz and Marius Diaz, Aron Quartett
CPO 7776002 (CD mid-price)
11.45am Disc of the Week
KALEVI AHO: Minea (Concertante Music for Orchestra)*; Concerto for Double Bass and Orchestra^; Symphony No. 15~
Eero Munter (double bass), Lahti Symphony Orchestra, Osmo Vanska*, Jaako Kuusisto^ and Dima Slobodeniouk~ (conductors)
BIS BIS1866 (Hybrid SACD)