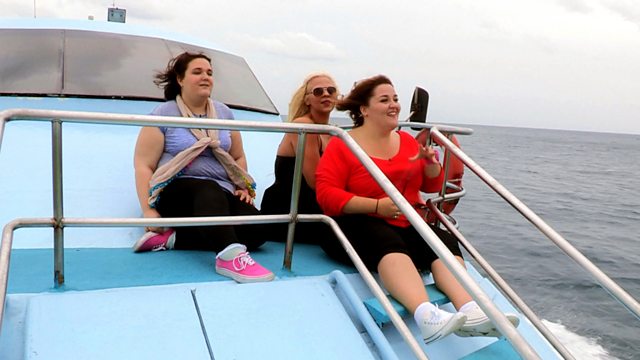 Unsuspecting young people fly over 6,000 miles away from home for the holiday of a lifetime in Thailand, little knowing that their parents will be following them and watching their every move.
Two very different young people head to the beautiful Thai island of Koh Phi Phi. During the day this tiny island is a peaceful paradise, but at night it is party central, with fire shows and buckets of booze.
In Croydon, 22-year-old insurance clerk Chiara is still living at home with her mum and over-protective, traditional Italian father Antonio. Her dad is so worried about her he once followed her clubbing, but mum Gilda is less controlling and knows that they have to let go of their little girl. Chiara hopes that Thailand will be a chance to gain some independence whilst trying to remain dignified and not bring shame on her Italian family. Going with her are good friends Amy and Danielle.
20-year-old Josh lives in East Grinstead with mum Steph. Josh has had a difficult past and has found himself in trouble, but now he has turned his life around and wants to prove that he has changed. Best mate Louis will be going with Josh for what they hope will be the holiday of a lifetime.
It's time for the long flight to independence. But they don't know their parents won't be far behind them, ready to watch all their antics.
The boys arrive after a gruelling journey and are raring to go and hit the beachfront bars, and when the girls arrive they have the same idea. Both groups are getting drunk and loving Thailand and after several buckets of drink they decide it would be a great idea to try 'fire skipping'.
The next day the girls are out on the canoes, while the boys are trying to figure out how to treat Josh's burnt foot after a fire skipping accident. They don't know that their parents have now arrived and are about to watch what they got up to. Josh's mum is shocked by his crudeness and the volume he's drinking, whilst Chiara's parents are realising that they may not know their daughter as well as they thought.
It's the last night, and despite a stomach upset Josh battles on hitting the bars again. It's his last chance to pull, but his illness means they don't last long and head home. Just when it looks like all is lost they run into some girls in a local shop who seem like they could be convinced to go back to the hotel.
Chiara is reflecting on how much her parents do for her, making her mum cry with pride, but Josh is bringing back bad memories for his mum and she gets very emotional. How will she react when she hears the gory details of his one night stand?
Will Chiara's parents realise that their daughter is trustworthy and learn to cut the apron strings? And despite coming a long way since his wild days, can Josh prove to his mum and everyone else that he has changed?
Last on
Credits
| Role | Contributor |
| --- | --- |
| Executive Producer | Jo Scarratt-Jones |
| Series Producer | Blake McGrow |