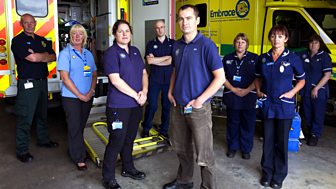 Children's Emergency Rescue
Series following a special team of doctors and nurses dedicated to transporting some of the UK's sickest children and infants to expert medical care.
On iPlayer
This programme is not currently available on BBC iPlayer
On TV
There are no upcoming broadcasts of this programme
Last on
Thu 27 Feb 2014 00:50
BBC Two except Wales
About the programme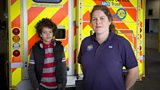 A dramatic midnight rescue operation to save the life of a dying teenager features in Children's Emergency Rescue.
The programme follows the work of the elite flying doctors and nurses of Embrace, a paediatric transport organisation based in Barnsley, South Yorkshire. 
Their job is to transfer sick babies and children to specialist units using mobile intensive care units, planes or helicopters.
In the first episode consultant Hazel Talbot is scrambled to the bedside of 13 year-old Chance, who is lying critically ill in Leeds General Infirmary.
His heart is failing and without a transplant it's feared he has only weeks to live. A suitable donor organ is available - but it is 200 miles away in central London and Hazel has less than four hours to get her patient to Great Ormond Street Hospital.
The documentary follows Hazel and her desperately ill patient as they race on blue lights to Leeds-Bradford Airport, where an RAF Sea King helicopter is waiting to fly Chance into the heart of London, using night vision goggles developed for use in warzones.
Ninety minutes later, he's landing in Regent's Park. Chance's story has a happy ending - he reaches the operating theatre, has his operation and lives to thank his rescuers.
Meet the Embrace team
Embrace, which is funded by the Sheffield Children's NHS Foundation Trust, handles 3,500 cases a year.
Its medical team must often care for critically ill young patients on the road, with little of the back-up or equipment available in hospital.
Embrace boss Dr Steve Hancock, a critical care consultant, says: "From the outside our vehicles look like a normal 999 ambulance, but inside they're a mobile intensive care unit for premature babies and critically ill children. 
"If we need to move a child to Newcastle, to London or the Glasgow then we can do that. It means all the other doctors and nurses in the referring unit can carry on looking after the other patients while we do the transfer and that I think is a real benefit.
"The children arrive in a better condition than if it was done by a none-specialist team."
The TV team spent six month following Embrace medics to capture the reality of emergency medicine on the road and in the air.
Executive producer Ian Cundall says: "We hope this series will give viewers an insight into the life or death dilemmas faced by a remarkable team of medics. As demands on NHS staff grow, more patients young and old may face transfers like this."
When a children's heart unit suddenly closes, Embrace doctor Sunny and nurse Jamie are sent to take a baby with a life-threatening heart condition for an operation as the unit can no longer carry out the procedure.
Instead, they must carry the baby girl more than 100 miles to Leicester. Twice, their patient comes close to death.
Nurse Jamie says: "It was a very stressful situation – and one we don't like to be in regularly.  I have had some very difficult transfers but she was very sick. Both doctor Sunny and myself were concerned she wouldn't make it."
Caring for sick children 
Children's Emergency Rescue also gives an insight into the problems faced by parents coping with a seriously ill child who is in a hospital miles from home.
One mum in Grimsby gives birth to twins only to find one of her daughters has a rare intestinal complaint. 
The baby is raced to a specialist unit in Sheffield 70 miles away and recovers, but days later her twin develops the same condition. For weeks, the twins' family must shuttle between hospitals – a 140 mile round trip.
The series is narrated by Fiona Bruce.