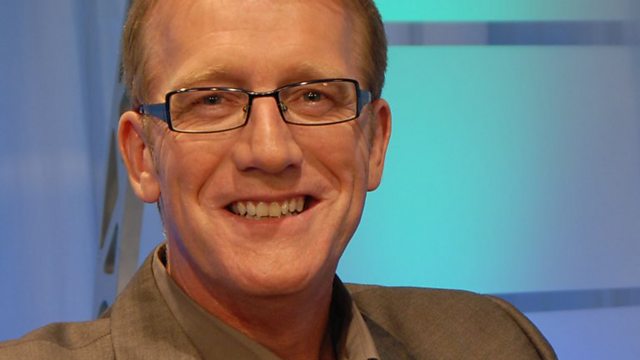 21/01/2014
As revelations that the Clintons keep a grudge list everyone who has ever wronged them come to light, Richard asks whether holding a grudge really is as bad for us as people say....
What would happen if we celebrated noise, instead of trying to eradicate it? Acoustic engineer Trevor Cox teaches us how to retrain our ears to appreciate the sonic wonders of the world around us
With canine obesity on the rise due to pet foods containing huge amounts of salt, sugar, oils and fats, vet Ivor Lough advises us on what we should actually be feeding our pets to keep them happy and healthy
Chef extraordinaire Jak O'Donnell reveals the Great Thing she does to make her signature bolognese so mouthwateringly delicious....
Whether you're a swimmer, runner, or walking's your thing, Claudia Winkleman is full of ideas for how to get involved in Sport Relief 2014
No longer a sixteenth century ailment but a reality for 1 in 40 people in the UK, gout is back - but what is it exactly and is it preventable? Dr David McCarey pops into the studio to give Richard the 'Gout 101'!
Last on
Jak's Bolognese recipe
Bolognese <?xml:namespace prefix = o ns = "urn:schemas-microsoft-com:office:office" />
It takes a while but it's worth it!!
1 Tablespoon Rapeseed oil
1 medium onion, finely chopped
2 celery stalks, finely chopped
1 medium carrot, finely chopped
2-3 cloves of garlic, minced
1kg pounds Scotch beef mince
1/8 teaspoon nutmeg
1 teaspoon salt
1/2 teaspoon pepper
1 cup milk blue top
1 cup white wine
2 x 400gr cans chopped tomatoes, drained (juices reserved)


Heat the oil over medium heat. Add the onion, celery, and carrot and cook until the onion is soft .Add the garlic and cook about 30 seconds. Add the beef, breaking it apart with your spoon and cooking until it is just browned. Season with nutmeg, salt, and pepper.
Stir in the milk and bring it to a rapid simmer. Continue simmering until the milk has reduced completely and very little liquid remains, about 5 minutes. Stir in the wine and simmer again until reduced completely, about 10 minutes. Transfer the beef mixture to the slow cooker.
Add the chopped tomatoes and half  reserved tomato juices to the slow cooker. Stir to combine. Cover and cook on HIGH for 6 hours or LOW for 8 hours.
In the last half hour of cooking, remove the lid to allow any excess liquid to evaporate and reduce the sauce. The finished sauce should be chunky and creamy without being soupy.
Serve over spaghetti with a hunk of crusty bread for mopping up the sauce!