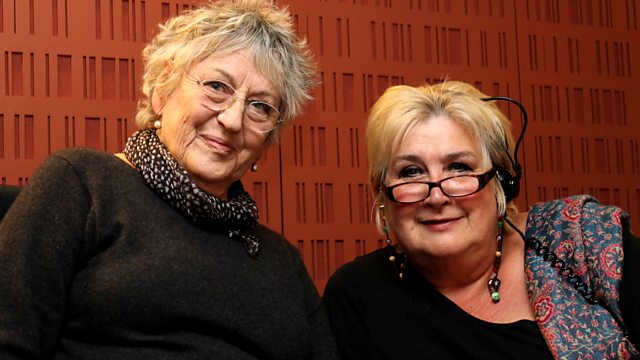 Weekend Woman's Hour: Germaine Greer; Anxiety; June Spencer
Listen in pop-out player
Germaine Greer on her passion for restoring a small patch of rainforest in south-east Queensland, Australia. Dealing with anxiety: we hear from 27 year old Claire Eastham who has suffered from anxiety from the age of 15 and from David Clark, Professor of Experimental Psychology at Oxford University, the National Clinical Advisor for Improving Access to Psychological Therapies.
Three editors of women's magazines discuss how they balance their responsibilities to their readers with producing something they want to read - Lisa Smosarski of Stylist, Trish Halpin of Marie Claire and Lebby Eyres of New!
Sophie Hannah on a new poetry collection 'The Poetry of Sex' which she edited. June Spencer talks about playing the longest running character on The Archers - Peggy Woolley.
Two women who lost their jobs during the recession talk about the impact. Anne Hollifield is a former council worker from Middlesborough, and Melanie Bryan OBE set up her company WhyNotChange in April 2009.
Being A Man - Tim Samuels from Five Live's Men's Hour, theatre director, writer and filmmaker Topher Campbell and Jude Kelly from the Southbank Centre discuss.
The BBC's Caroline Wyatt and Lindsey Hilsum from Channel 4 News discuss reporting in war zones.
Presented by Sheila McClennon
Produced by Catrina Lear
Edited by Jane Thurlow.
Last on
Germaine Greer
In a special programme on Women and land, Germaine Greer told us about her passion for restoring a small patch of rainforest in South East Queensland, Australia. In 2002, Germaine Greer bought 60 hectares of abandoned dairy farmland, previously used for harvesting bananas and timber production. In her new book, "White Beech," she tells the story of her extensive search for the right plot, her meticulous research into its history and her attempt to rejuvenate a magnificent ecosystem.  Germaine Greer also spoke to the programme about selling her entire archive to the University of Melbourne where she studied more than 50-years ago. It includes notes for her books like The Female Eunuch, her diaries and correspondence with politicians, intellectuals and friends. 
Women Magazine Editors
Last week, it was revealed that photographs of actress Lena Dunham had been *gasp* re-touched for the front cover of American Vogue's February issue.  Most understand the business of fashion photography with its flattering shots and digital retouching but the fact that it was done to a young woman famed for being 'normal' looking and not super-Hollywood, outraged many. Feminist blog 'Jezebel' offered a "$10,000 bounty" to anyone who could reveal the original "untouched" photos of Lena.  And with the French female Editor of Closer magazine publishing those photos of President Hollande, resulting in the First Lady recovering in hospital, we asked what is a magazine editor's editorial responsibility to women? What's the tipping point for a magazine to be entertaining and look good, yet remain feminist? Woman's Hour discussed how far female editors and their magazines have to change with Stylist Editor Lisa Smosarski, Lebby Eyres from new! and Trish Halpin from Marie Claire.
Treating Anxiety
Earlier this month, figures from the Health and Social Care Information Centre included in the annual report on the Improving Access to Psychological Therapies (IAPT) programme showed that the highest numbers of people seeking help for anxiety and depression were women and young people. Depression is a mental health problem most people are aware of but anxiety is less talked about. And anxiety is an emotion we all experience from time to time. We explored when anxiety becomes a problem and if there is enough awareness and understanding of it as a mental health problem. We heard from 27 year old Claire Eastham who has suffered from anxiety since she was 15 and from David Clark who is Professor of Experimental Psychology at Oxford University and is the national clinical advisor for Improving Access to Psychological Therapies (IAPT).
Anxiety UK is a charity for those affected by anxiety disorders.
The Poetry of Sex
What's black and white and contains threesomes, elephants, Mick Jagger's penis and two Daniel Craigs? It's a new collection of poems, The Poetry of Sex. This is not a book of erotic poems designed to be read aloud to a lover, but by turns an implicit, explicit, nuanced and starkly frank study of the human relationship with sex. The editor Sophie Hannah explained how she made her selection, which ranges from ancient Rome to modern New York, from gay to straight to otherwise, from desire and hope, through disappointment and confusion, to conclusion and consequence.
The Poetry of Sex is published by Penguin Viking on 30th January 2014. 
After the economic downturn, which way is up?
 Woman's Hour and You & Yours collaborated for two outside broadcasts examining the impact of the recession and the strength of the current recovery. For Woman's Hour Jenni Murray was live from a food bank, surprisingly located in the relatively affluent suburb of Timperley in Cheshire. The programme looked at the impact the recession has had on women. Joining Jenni live from Timperley on the panel were Lucy Powell, Labour MP for Manchester Central; Claire Annesley, Professor of Politics at Manchester University and also a member of the management committee of the Women's Budget Group; Claire Perry, Conservative MP for Devizes; and Ruth Porter, Head of Economics & Social Policy from the Think Tank Policy Exchange.  Also joining Jenni were two women who've had different experiences of the downturn; Anne Hollifield, a former council worker from Middlesborough, and Melanie Bryan OBE who set up her company WhyNotChange in April 2009.
Being a Man
The Being a Man festival starts at London's Southbank Centre this Friday. Men of all ages and from different walks of life will be coming together to discuss what it means to be a man today. It's the first time the event has been held and the idea has come from the people who organise the women of the world festival and Jude Kelly the Artistic Director of Southbank Centre. So why do men need a special event to discuss masculinity? Jenni discussed this with Judy Kelly, Tim Samuels, presenter of  Five Live's Men's Hour and Topher Campbell, a Director of Film and Television.
June Spencer
June Spencer was in the pilot episode of
The Archers
and has played the part of Peggy since 1951. At 94 she continues to perform in some of the most demanding story lines, including the death of her on-air husband Jack Woolley following his long decline with dementia. Jane was joined by June Spencer to talk about her career as the longest serving cast member.
War Journalists
According to the 'Committee to Protect Journalists,' last year over 200 journalists were imprisoned and seventy killed – many of them reporting on the war in Syria.  Others are still missing.  Next week, we'll be broadcasting 'Anna's War' in the Woman's Hour drama slot. It's based on the life of Anna Politkovskaya, the Russian journalist who was murdered in 2006. The series covers five key events in her life and in particular her work covering the war in Chechyna from 1999 to 2006. And in the new Woman's Hour Archive Collection you can also hear Jenni's interview with Anna Politkovskaya from 2004 about her why she continued speak out about President Putin and the situation in Chechnya, despite receiving death threats.  Joining Jenni to discuss reporting in war and conflict zones were Caroline Wyatt, BBC defence correspondent and Lindsey Hilsum, International Editor for Channel 4 News, author of  'Sandstorm; Libya in the Time of Revolution.'
Credits
| Role | Contributor |
| --- | --- |
| Presenter | Sheila McClennon |
| Interviewed Guest | Germaine Greer |
| Interviewed Guest | David Clark |
| Interviewed Guest | Lisa Smosarski |
| Interviewed Guest | Trish Halpin |
| Interviewed Guest | Lebby Eyres |
| Interviewed Guest | Sophie Hannah |
| Interviewed Guest | June Spencer |
| Interviewed Guest | Anne Hollifield |
| Interviewed Guest | Melanie Bryan |
| Interviewed Guest | Tim Samuels |
| Interviewed Guest | Topher Campbell |
| Interviewed Guest | Jude Kelly |
| Interviewed Guest | Caroline Wyatt |
| Interviewed Guest | Lindsey Hilsum |
| Producer | Catrina Lear |
| Editor | Jane Thurlow |