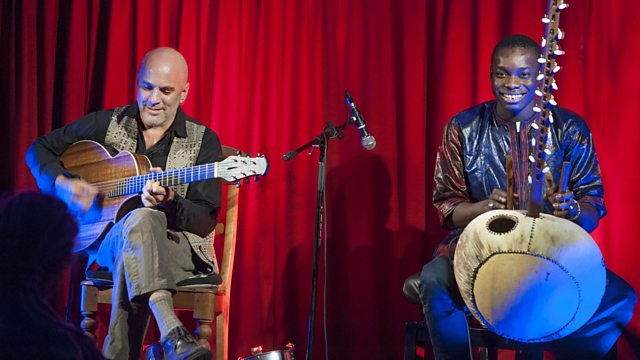 Commonwealth Connections
Mary Ann Kennedy live from the BBC's Pacific Quay studios in Glasgow with artists from Celtic Connections, plus the launch of the 26-part series Commonwealth Connections, featuring musicians from across the Commonwealth.
Music from each and every Commonwealth country: part of the BBC's Commonwealth Games programming, Commonwealth Connections is 26 weekly features reflecting the breathtaking range of music and culture across the 53 countries of the Commonwealth. Broadcast on BBC Radio 3 as part of World on 3, starting from Glasgow's Celtic Connections festival in January and running until the Commonwealth Games in Glasgow in July, the series includes 26 music features recorded on location, and 26 'Heritage Tracks' introduced by sports people and cultural figures from the Commonwealth countries. The series culminates in a live concert from Glasgow on 1st August, just before the close of the Games, from BBC@theQuay, the BBC's cultural hub on the banks of the Clyde.
The Radio 3 team in Glasgow and London will be crossing the globe, meeting musicians, recording music on location and capturing musical events, all reflecting the traditional cultures of each country. From Antigua to Zambia, the series reflects the Commonwealth's vibrant sounds, as the countries come together for their festival of sport. The features will also be available for internet streaming and as podcasts, building up a rich audio archive alongside a wealth of images and video.
The features will be transmitted around midnight on Friday nights, the centrepiece of Radio 3's world music programme World on 3.
Programme 1
MUSIC FEATURE: Jamaica - the route to Reggae
In Port Antonio over on the north side of the island, the Jolly Boys, a mento band formed in 1945 to entertain at Errol Flynn's parties, live a quiet life entertaining the visiting stars singing songs of social comment. This is Jamaica's Calypso complete with banjo, percussion and rumba box accompaniment, an acoustic forerunner to the ubiquitous Reggae music heard all over the Caribbean.
HERITAGE TRACK: Swaziland
Gideon Mthembu made his name as a marathon runner for Swaziland, representing his country at the Seoul Olympics in 1988.He went on to play an important role in the administration of athletics in Swaziland, becoming General Secretary of the Athletics Federation, and today continues his work promoting track and field in the whole Southern Africa Region. He chose the artist Bholoja, with a song called "Indzawo Yami" from his album "Swazi Soul", a beautiful song explaining Swazis' deep attachment to the land they call home.
Last on
Seven pioneering figures in world music
BBC Introducing on World on 3