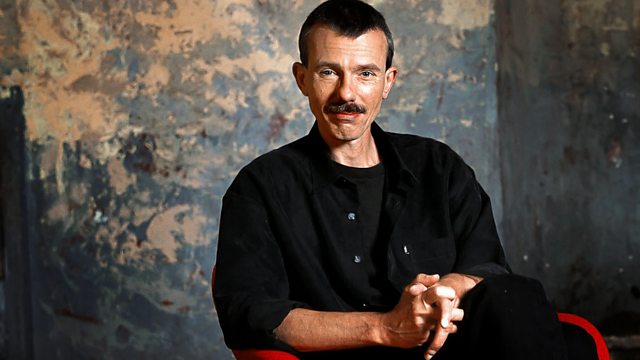 30/01/2014
Music by the American composer Steve Reich, featuring his works interspersed with composers who have inspired him, including JS Bach and Debussy. Presented by Jonathan Swain.
12:31 AM
Bach, Johann Sebastian [1685-1750]
Prelude from Suite for Solo Cello No.1 (BWV.1007) in G major
Claudio Bohórquez (cello)
12:33 AM
Reich, Steve [b.1936]
Clapping music for 2 musicians
Steve Reich and David Cossin (handclaps)
12:37 AM
Bartók, Béla (1881-1945)
Romanian folk dances (Sz.68) orch. from Sz.56
BBC National Orchestra of Wales, James Clark (conductor)
12:44 AM
Reich, Steve [b.1936]
New York Counterpoint for clarinet and tape
Bang on a Can All-Stars, Michael Gordon (director)
12:56 AM
Debussy, Claude [1862-1918]
Prélude à l'après-midi d'un faune
BBC Scottish Symphony Orchestra, Ilan Volkov (conductor)
1:07 AM
Reich, Steve [b.1936]
Double Sextet
Bang on a Can All-Stars, Michael Gordon (director)
1:30 AM
Stravinsky, Igor [1882-1971]
Agon - ballet
BBC Symphony Orchestra, David Robertson (conductor)
1:54 AM
Reich, Steve [b.1936]
Tehillim vers. for 4 female voices and chamber orchestra
Synergy Vocals, Ensemble Modern, Brad Lubman (director)
2:25 AM
Bach, Johann Sebastian [1685-1750]
Preludio from Partita for Solo Violin No.3 in E major, BWV.1006
Sigiswald Kuijken (violin)
2:31 AM
Haydn, Joseph (1732-1809)
Symphony No.67 (Hob I:67) in F major
Oslo Philharmonic Orchestra, Rafael Frühbeck de Burgos (conductor)
2:57 AM
Poulenc, Francis (1899-1963)
Figure humaine - cantata for double chorus (1943)
Danish National Radio Choir, Stefan Parkman (conductor)
3:15 AM
Handel, Georg Frideric (1685-1759)
Sonata in C major (Op.1 No.7)
Peter Hannan (recorder), Colin Tilney (harpsichord), Christel Thielmann (viola da gamba)
3:27 AM
Berlioz, Hector (1803-1869)
Hungarian March - from 'The Damnation of Faust'
Melbourne Symphony Orchestra, Jorge Mester (conductor)
3:32 AM
Chopin, Fryderyk [1810-1849]
Nocturne No 14 in F sharp minor Op.48 No.2
Nelson Goerner (piano)
3:40 AM
Telemann, Georg Philipp (1681-1767)
Trio No.1 for recorder, oboe & basso continuo (from Essercizii Musici)
Camerata Köln
3:52 AM
Schubert, Franz [1797-1828]
Trio in B flat D.471 - Allegro
Trio AnPaPié
4:00 AM
Ibert, Jacques [1890-1962]
Trio for violin, cello and harp
András Ligeti (violin), Idilko Radi (cello), Eva Maros (harp)
4:16 AM
Carmichael, John (b.1930) arr. Hurst, Michael
A Country Fair arr. Hurst for orchestra
Jack Harrison (clarinet), West Australian Symphony Orchestra, Richard Mills (conductor)
4:25 AM
Dowland, John (1563-1626)
Lamentatio Henrici Noel (1597)
Angharad Gruffydd Jones (soprano), Concordia, Mark Levy (conductor)
4:31 AM
Mozart, Wolfgang Amadeus [1756-1791]
Overture to The Marriage of Figaro
Norwegian Radio Orchestra, Susanna Mälkki (conductor)
4:35 AM
Chopin, Fryderyk [1810-1849]
Impromptu in G flat major Op.51 for piano
Evgeni Koroliov (piano)
4:42 AM
Handel, Georg Friedrich (1685-1759)
Perchè viva il caro sposo - from Rodrigo (HWV 5) Act 3
Emma Kirkby (soprano), Academy of Ancient Music, Andrew Manze (director)
4:48 AM
Glinka, Mikhail Ivanovich (1804-1857)
Kamarinskaya (fantasy for orchestra)
Winnipeg Symphony Orchestra, Kazuhiro Koizumi (conductor)
4:56 AM
Ravel, Maurice [1875-1937]
Piano Concerto in G major
Dubravka Tomsic-Srebotnjak (piano), Slovenian Radio and Television Symphony Orchestra,
Marko Munih (conductor)
5:20 AM
Biber, Heinrich Ignaz Franz (1644-1704)
Sonata No.1 à 8, from Sonatae Tam Aris Quam Aulis Servientes (1676)
Collegium Aureum
5:26 AM
Grieg, Edvard (1843-1907)
String Quartet No 1 in G minor, Op 27
Ensemble Fragaria Vesca
6:00 AM
Cavalli, Francesco (1602-1676)
Salve Regina
Monteverdi Choir, English Baroque Soloists, John Eliot Gardiner (conductor)
6:09 AM
Rachmaninov, Sergey (1873-1943)
Caprice bohémien (Op.12) (Capriccio on Gypsy Themes)
Queensland Symphony Orchestra, Vladimir Verbitsky (conductor).
Last on