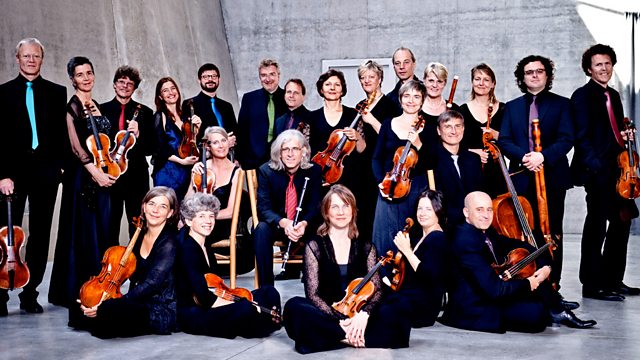 28/01/2014
The Freiburg Baroque Orchestra sparkles in music from the Court of Dresden including works by Quantz, CPE Bach and Haydn. Jonathan Swain presents.
12:31 AM
Frederick the Great (1712-1786)
Il re pastore - Overture
Freiburg Baroque Orchestra, Julia Schroder (conductor)
12:41 AM
Quantz, Johann Joachim [1697-1773]
Concerto for Flute (QV.5:174) in G major, 'Pour Potsdam'
Karl Kaiser (flute), Freiburg Baroque Orchestra, Julia Schroder (conductor)
12:58 AM
Bach, Carl Philipp Emanuel [1714-1788]
Symphony (Wq.174) in C major
1:08 AM
Wagenseil, Georg Christoph [1715-1777]
Sonata in F major for 3 cellos and double bass, WV.445'2
1:26 AM
Haydn, Joseph [1732-1809]
Symphony no. 59 (H.1.59) in A major "Fire"
1:47 AM
Mozart, Wolfgang Amadeus [1756-1791]
Symphony no. 1 (K.16) in E flat major - Finale
Freiburg Baroque Orchestra, Julia Schroder (conductor)
1:50 AM
Mozart, Wolfgang Amadeus [1756-1791]
Sonata for piano (K.576) in D major
Jonathan Biss (piano)
2:05 AM
Tchaikovsky, Pyotr Il'yich (1840-1893)
Suite No.4 in G major for orchestra (Op.61), 'Mozartiana'
Winnipeg Symphony Orchestra, Kazuhiro Koizumi (conductor)
2:31 AM
Sibelius, Jean (1865-1957)
Symphony no.1 (Op.39) in E minor
Rotterdam Philharmonic Orchestra, Valery Gergiev (conductor)
3:09 AM
Schubert, Franz (1797-1828) transcr Liszt, Franz
Die Forelle (S.564)
Simon Trpceski (piano)
3:13 AM
Telemann, Georg Philipp (1681-1767)
Overture (Suite) (TWV.55:G10) in G major 'Burlesque de Quixotte'
La Stagione Frankfurt, Michael Schneider (conductor)
3:33 AM
Mozart, Wolfgang Amadeus (1756-1791)
Adagio in E major (K.261)
James Ehnes (violin/director); Mozart Anniversary Orchestra
3:42 AM
Grieg, Edvard (1843-1907)
In Autumn - concert overture (Op.11)
Bergen Philharmonic Orchestra, Josep Caballe Domenech (conductor)
3:54 AM
Bruch, Max (1838-1920) (arr. unknown)
Allegro vivace ma non troppo in C major - No.7 from Pieces for clarinet, viola/cello & piano (harp) (Op.83) arranged for violin, cello & piano
Moshe Hammer (violin), Tsuyoshi Tsutsumi (cello), William Tritt (piano)
3:58 AM
Puccini, Giacomo (1858 -1924)
I Crisantemi for string quartet
Moyzes Quartet
4:05 AM
Brahms, Johannes (1833-1897)
Tragic Overture, Op.81
Danish National Radio Symphony Orchestra, Thomas Dausgaard (conductor)
4:18 AM
Mozart, Wolfgang Amadeus (1756-1791)
5 movements from the ballet music "les Petits riens" (K.299b)
Danish Radio Sinfonietta/DR; Adám Fischer (conductor)
4:31 AM
Poot, Marcel (1901-1988)
A Cheerful Overture for orchestra
Belgium Radio and Television Philharmonic Orchestra, Alexander Rahbari (conductor)
4:36 AM
Butterworth, Arthur (b. 1923)
Romanza for horn and strings (1954)
Martin Hackleman (horn), CBC Vancouver Orchestra, Mario Bernardi (conductor)
4:46 AM
Saint-Saëns, Camille (1835-1921)
Variations on a theme by Beethoven (Op.35)
Dale Bartlett & Jean Marchaud (pianos)
5:05 AM
Beethoven, Ludwig van (1770-1827)
Fantasia for piano, chorus and orchestra in C minor (Op.80)
Anton Kuerti (piano), Toronto Mendelssohn Choir, Toronto Symphony Orchestra, Andrew Davis (conductor)
5:24 AM
Gabrieli, Giovanni (c.1553-1612)
Sonata Pian'e forte, for brass
Members of the Danish Radio Concert Orchestra, Roman Zeilinger (conductor)
5:30 AM
Hummel, Johann Nepomuk (1778-1837)
Trumpet Concerto in E flat major
Odin Hagen (trumpet), Norwegian Radio Orchestra, Per Kristian Skalstad (conductor)
5:49 AM
Gotovac, Jakov (1895-1982)
Symphonic Dance 'Kolo' (Op.12) (1926)
Zagreb Philharmonic Orchestra, Kazushi Ono (conductor)
5:58 AM
Ravel, Maurice (1875-1937)
La Valse for 2 pianos
Ouellet-Murray Duo: Claire Ouellet & Sandra Murray (pianos)
6:11 AM
Lully, Jean-Baptiste (1632-1687)
Le Bourgeois gentilhomme - suite
Norwegian Chamber Orchestra, Terje Tønnesen (conductor).
Last on