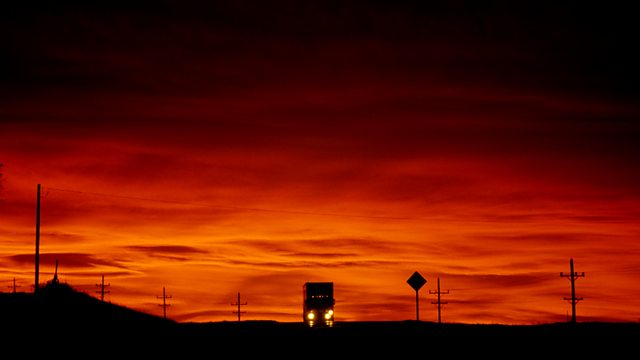 26/01/2014
A concert given by members of the Gulbenkian Orchestra in Lisbon, including Mozart's String Quintet No.3 and Joly Braga Santos's String Sextet. Jonathan Swain presents
1:01 AM
Mozart, Wolfgang Amadeus [1756-1791]
Quintet for strings (K.516) in G minor
1:35 AM
Santos, Joly Braga [1924-1988]
String Sextet, Op 59
Soloists from Gulbenkian Orchestra: Bin Chao (violin), Jorge Le (violin), Leonor Braga Santos (viola), Christopher Hooley (viola), Varoujan Bartikian (cello), Martin Henneken (cello).
1:58 AM
Montsalvatge, Xavier (1912-2002)
Concierto Breve
Angela Cheng (piano), Calgary Philharmonic Orchestra, Hans Graf (conductor)
2:22 AM
Vásquez, [Vázquez] Juan (c.1500-c.1560) and Encina, Juan del [1468-c.1529]
Vos me matastes (Vázquez); Oy comamos y bebamos (Encina); De los alamos vengo, madre (Vázquez)
Trio Montparnasse
2:26 AM
Lalo, Edouard (1823-1892)
Symphonie Espagnole
Vadim Repin (violin), Rundfunk-Sinfonieorchester Saarbrücken, Michael Stern (conductor)
3:01 AM
Halvorsen, Johan [1864-1935]
Symphony No. 2 in D minor, Op. 67
Norwegian Radio Orchestra, Thomas Søndergård (conductor)
3:31 AM
Arriaga, Juan Crisóstomo de (1806-1826)
Stabat Mater
Grieg Academy Choir, Bergen Philharmonic Choir and Orchestra, Juanjo Mena (conductor)
3:40 AM
Mozart, Wolfgang Amadeus [1756-1791]
Sonata for piano duet (K.381) in D major
Martha Argerich (piano), Maria João Pires (piano)
3:54 AM
Mendelssohn, Fanny Hensel (1805-1847)
Trio Op.11 in D minor
Trio Orlando
4:20 AM
Gabrieli, Giovanni (c.1553-1612)
Canzon primi toni a 8
Douglas Haas (organ), Canadian Brass
4:24 AM
Goldmark, Károly (1830-1915)
In Italien - overture (Op.49)
The Hungarian Radio Orchestra, Geza Oberfrank (conductor)
4:36 AM
Bartók, Béla (1881-1945)
Suite for piano (Sz.62) (Op.14)
Eduard Kunz (piano)
4:45 AM
Boulogne, Joseph - Chevalier de Saint-Georges (c.1748-1799)
Symphony in G major (Op.11, No.1) (1779)
Tafelmusik Orchestra, Jeanne Lamon (conductor)
5:01 AM
Ysaÿe, Eugène (1858-1931)
Caprice d'après l'Etude en forme de Valse, op.52 No.6 de Saint-Saëns
Karol Danis (violin), Iveta Sabová (piano)
5:10 AM
Saint-Saëns, Camille (1835-1921)
Piano Concerto No.2 in G minor (Op.22)
Dubravka Tomsic-Srebotnjak (piano), Slovenian Radio and Television Symphony Orchestra, Samo Hubad (conductor)
5:33 AM
Bach, Johann Sebastian (1685-1750)
Komm, Jesu, komm (BWV.229)
Tafelmusik Chamber Choir, Tafelmusik Baroque Orchestra, Ivars Taurins (conductor)
5:43 AM
Cervello, Jordi [b.1935]
To Bach
Atrium Quartet
5:54 AM
Strauss, Johann Jr (1825-1899) arranged by Schoenberg, Arnold (1874-1951)
Kaiser-Walzer (Op.437) (1888) arr. Schoenberg (1925) for chamber ensemble
Canadian Chamber Ensemble, Raffi Armenian (conductor)
6:06 AM
Liszt, Franz [1811-1886]
A la Chapelle Sixtine (Miserere de Allegri et Ave verum corpus de Mozart) (1862)
Jos Van Immerseel (piano)
6:15 AM
Prokofiev, Sergey (1891-1953)
Symphony No.1 in D major (Op.25), 'Classical'
Royal Concertgebouw Orchestra, Karel Ancerl (conductor)
6:29 AM
Geminiani, Francesco (1687-1762)
Concerto Grosso No.12 in D minor, 'Folia' (after Corelli's Sonata Op.5 No.12)
Tafelmusik Baroque Orchestra, Jeanne Lamon (conductor)
6:41 AM
Schubert, Franz (1797-1828); transcribed by Liszt, Franz [1811-1886]
Aus dem Wasser zu singen (D.744) arr. Liszt for piano
Anastasia Vorotnaya (piano)
6:45 AM
Vaughan Williams, Ralph (1872-1958)
Fantasia on a theme by Thomas Tallis for double string orchestra
BBC Philharmonic, Yan Pascal Tortelier (conductor).
Last on