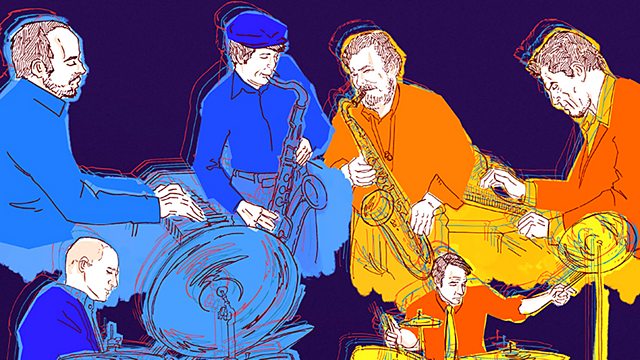 Noszferatu, Alexander von Schlippenbach Trio
Tom Service introduces a concert by Noszferatu and the Alexander von Schlippenbach Trio, performing compositions specially created for this double ensemble, in a programme exploring the crossover between written and improvised music. The concert was recorded in November at the London Jazz Festival and includes a solo set from Noszferatu featuring music by its founding members Dave Price and Finn Peters. Plus he UK premiere of German composer Charlotte Seither's choral work Haut Terrain and Ligeti's String Quartet No.2, both recorded at the Huddersfield Contemporary Music Festival.
Dave Price: Lee Games
Finn Peters: 43
Dave Price: Twitcher
Noszferatu
Gyorgy Ligeti: String Quartet No.2
Diotima Quartet
Charlotte Seither: Haut Terrain
BBC Singers/Nicholas Kok
Joe Cutler: Flexible Music
Hans Koller: Eins, Zwei, Drei, Tier
Hanna Kulenty: Smokey Eyes
Noszferatu
Alexander von Schlippenbach Trio
Noszferatu: Ivo de Greef (piano); Finn Peters (saxophones, flute); Damien Harron (percussion)
Alexander von Schlippenbach Trio: Alexander von Schlippenbach (piano); Evan Parker (saxophones); Paul Lovens (percussion).
Last on