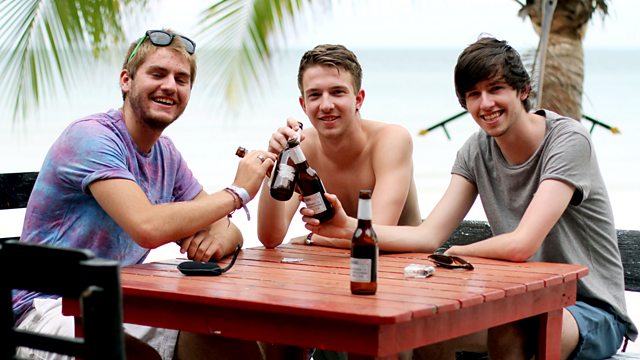 Unsuspecting young people fly over 6,000 miles away from home for the holiday of a lifetime in Thailand, little knowing that their parents will be following them and watching their every move.
It's a baptism of fire for our kids as they fly long haul to the Thai island of Koh Phangan, famous for its wild full-moon parties.
Pat from Essex is a part-time waiter, full-time ladies' man and quit college because he wanted to have more fun. He lives with his mum, who thinks he goes out far too much and wants him to take more responsibility. She hopes that Pat has respect for women; however, his main concern for the holiday is confusing a Thai lady with a ladyboy. Going to Thailand with him are partners-in-crime Phil and Dan.
In Sussex, 20-year-old graphic design student Daniel is proud to be a mummy's boy. His doting mother Gill does everything for him while he enjoys the easy life. To her, Dan is still her little baby and can do no wrong, but she has no idea about his drunken alter-ego or his tattoos, and with the nickname 'one can Dan' it doesn't take much for drunk Dan to come out. Going with him are best mates Kieran and Sam.
6,000 miles and 24 hours later the boys arrive in Thailand. Pat's group have one thing on their minds - girls - and for Pat it's all about numbers - hit on as many as possible with his main aim being to meet a Thai woman. The boys from Sussex start off slowly with a swim and a nap and then lose one man to jetlag, but they get into the party spirit in the end and two hours later they are seriously drunk.
Little do they know, their mothers have arrived and are less than half a mile away, about to watch what their darling sons have been up to.
On the second night Pat succeeds in meeting a Thai woman, but she asks for payment and much to his friends' disgust he gets the money together and heads off with her into the night. The next day Pat is full of regret, but what is his mum going to say when she watches the footage?
Daniel's group are at a ladyboy cabaret and Daniel ends up taking a starring role. It's another very drunken night, but the next day Daniel can't stop throwing up and on the doctor's recommendation he has to spend the night in hospital. His mum is desperate to go and look after him, but will she blow her cover to go to her sick son?
Last on
Credits
| Role | Contributor |
| --- | --- |
| Executive Producer | Jo Scarratt-Jones |
| Series Producer | Blake McGrow |