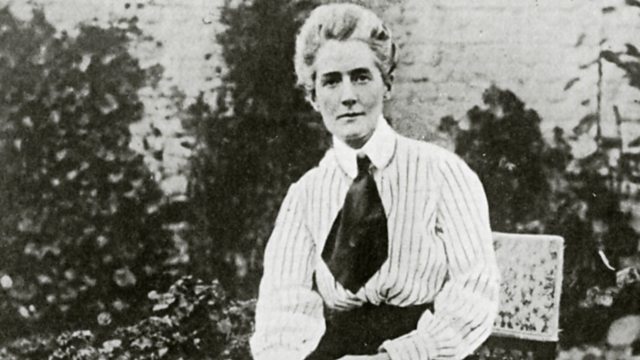 Edith Cavell; Part-time working men; Women and blindness; Children's Emergency Rescue
Listen in pop-out player
Sheila McClennon is joined by neonatal consultant Dr Hazel Talbot and Lisa, the mother of Chance, a 14-year-old boy who urgently needs a heart transplant. Both are featured in a new series for BBC2, Children's Emergency Rescue, narrated by Fiona Bruce and made by BBC Yorkshire.
Sheila asks whether more part time men could be the key to unlocking women's potential in the workplace and talks to Professor Tom Schuller about his theory, 'The Paula Principle', of why women aren't fulfilling their potential in the workplace, and why there needs to be a transformation of attitudes to part-time working if women are to get ahead.
There is a new online petition to have Edith Cavell's image on a limited edition £2 marking the centenary of WW1, Cavell's biographer discusses her life.
And escaping the perceptions of, and stereotypes around, blindness, isn't it harder women than it is for men?
Presenter: Sheila McClennon
Producer: Rozina Breen
Editor: Nicola Swords.
Last on
Part-time working men
A new book, to be published later this year, will say that in order to close the gender equality gap in the workplace, more men need to work part time. 'The Paula Principle' is the female mirror of the 'Peter Principle' a management theory which suggests that people will tend to be promoted until they reach their 'position of incompetence.' It's author, Dr Tom Schuller, suggests that – for too long – the closing of the gap has relied on women working to a male model and that now, if women are to achieve their full potential, men need to start taking a more female approach.
Campaign to put Edith Cavell on a coin
A new online campaign is calling for Edith Cavell to feature on a  £2 coin, as one in  a new  series being issued by The Royal Mint over the next four years to mark  WW1.  Edith Cavell was a a nurse, shot at dawn by a German firing squad for her resistance work  in helping hundreds of allied soldiers escape occupied Belgium. Cavell's biographer, Diana Souhami is a supporter of the campaign, and tells Sheila why  she deserves the honour.
Children's Emergency Rescue
Next week sees the start of a new series on BBC2, made by BBC Yorkshire and narrated by Fiona Bruce. The three hour-long documentaries follow the work of doctors and nurses at Embrace, a medical team based near Barnsley in South Yorkshire and dedicated to transporting very sick children from local hospitals to specialist units throughout the North. Two women at the centre of episode 1  Dr Hazel Talbot, a Neonatal consultant and Lisa McLoed, the mother of a teenager who urgently needs  a heart transplant join Sheila in the studio.
Landmark Birthdays Feedback
Earlier this week, we took a look at
landmark birthdays
after the press celebrated Kate Moss turning 40 with the headline 'Kate's still got it at 40'.  But since when did 40 mean over the hill?  You sent us your views…
Gender & Blindness: do we treat blind women differently from blind men?
In  her recent autobiography, 'I Didn't See That Coming',  Andrea Begley, last year's winner of TV reality show, 'The Voice', described how she loved the competition because it wasn't about  razzmatazz and image, but  about  the contestants being judged purely on their sound.  However,  as a blind person appearing  on a reality show, she also admitted to being wary, albeit only  initially,  that she  could  be portrayed as trying to trade on the sympathy vote.  How easy is it for blind people to escape the perceptions society sometimes places  upon them , and is it  harder  for blind women than blind men? To discuss, Sheila is joined by Hannah Thompson, a partially blind academic from Royal Holloway University of London and by professional soprano, Denise Leigh, who is also blind.     
Credits
| Role | Contributor |
| --- | --- |
| Presenter | Sheila McClennon |
| Interviewed Guest | Hazel Talbot |
| Interviewed Guest | Tom Schuller |
| Producer | Rozina Breen |