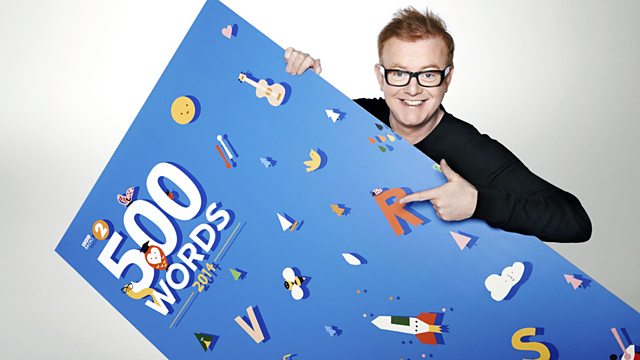 Richard Hammond is here to launch 500 WORDS 2014!
Chris begins a brand new week, with a creative call to children! It's time to get writing, as 500 WORDS returns for the fourth year running!
Head Judge Richard Hammond joins Chris live in the Breakfast studio, to mark the official opening of the competition. And Blue Peter's Barney Harwood - who read a gold-winning story at last year's final - lets us know why he's back on board for 2014!
Last year's short story competition, for children aged 13 and under, attracted more than 90,000 entries. The 40 million words used provided a fascinating insight into the way British children use English today, thanks to the word-crunching wisdom of the Oxford University Press.
The rules are simple: Make up a story, and write it down, using no more than 500 words. And every single story submitted will be read by a brilliant, book-loving, army of librarians and teachers from around the UK. The Scottish Book Trust are back on board, to shortlist the Top 50; and the competition's panel of best-selling authors return to Radio 2 HQ in early May, to pick three medal winners in two categories: 9 & Under; and 10-13 years.
The Top 50 authors will all be invited to the 500 WORDS Final at the Hay Festival of Literature and the Arts, on Friday 30th May, to hear the winners announced LIVE on The Chris Evans Breakfast Show! Last year's youngest finalist, Tom Capon, was just 6 years old, while the gold winners were 9 year old Roxanna Toyne from Brighton, and 13-year old Olivia Hunt from Somerset.
The gold winners take home Chris Evans' height in books (6ft 2"), while the silver medallists pick up Alex Jones' height in books (5ft 6"); and the bronze winners get to read their way through their own height in books! All six medallists get to hear their stories brought to life by celebrity readers, and last year's brilliantly inventive Top 50 spanned the globe and the ages, from pre-historic times; to the Middle Ages; the Victorian era; the trenches of World War One; and the year 3013.
Since last year's competition, one of the 500 WORDS family members - Malorie Blackman - has been appointed Children's Laureate. She returns to the competition alongside head judge Richard Hammond, and the best-selling authors Charlie Higson and Frank Cottrell-Boyce. And we're welcoming a new judge for 2014, the fantastic Francesca Simon, author of the multi-million-selling Horrid Henry series!
Last on
Pause for Thought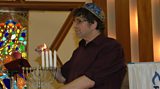 Rabbi Pete Tobias of the Liberal Synagogue, Elstree:
The 500 Words competition has got me thinking about the power of words.  I have a story to tell of my own…
Most religions have a holy book or scripture on which their teachings are based. For Jews, it's the Torah, also known as the Five Books of Moses. 
 
Coincidentally the fifth book of the Torah, referred to in English as Deuteronomy is called D'varim in Hebrew – which means 'words'. The title is based on the opening sentence which begins 'These are the words that Moses spoke…' And I can tell you it was a lot more than five hundred. There are actually 79,847 words in the Torah, so it certainly wouldn't make it as an entry into the 500 Words competition.

Many years ago there was a non-Jewish man who also thought the Torah was too long and that it ought to be a bit shorter. He visited several rabbis and asked them to tell him the whole Torah while standing on one leg. Now you can't even say 500 words standing on one leg, so there's no chance of saying almost 80,000. And those rabbis told the man not to be so ridiculous.

Eventually he came to Rabbi Hillel and repeated his request to be told the whole Torah while the rabbi stood on one leg. 'What is hateful to you, do not do to anyone else,' said Hillel, in precisely eleven words. 'That is the whole Torah,' he added, taking his total to sixteen.'

It's not much of a story, and I'm sure those of you who are planning to write your entries to the 500 words competition will manage something a little better than that. But I think you might struggle to come up with a more important message, a guideline about how we can work together to build a world of mutual respect and understanding. 'What is hateful to you, do not do to anyone else.' If we could manage that, then our story might just end with us all living happily ever after.
Today's Most Popular Tracks
Most added tracks from this show