The Green Belt Movement International - Europe
Jonathon Porritt presents the Radio 4 Appeal for The Green Belt Movement International - Europe.
Reg Charity: 1112638
To Give:
- Freephone 0800 404 8144
- Freepost BBC Radio 4 Appeal, mark the back of the envelope 'The Greenbelt Movement'.
Last on
The Green Belt Movement
The
Green Belt Movement (GBM
) is an environmental organisation that empowers communities, particularly women, to conserve the environment and improve livelihoods. Being committed to the principles of environment conservation, community involvement, volunteerism and the values of accountability, transparency and honesty the GBM runs various programs and initiatives primarily in Kenya but also in other regions of Africa and the world through its extensive partnership network. 
Founder Wangari Maathai
Professor Wangari Maathai
, founder of the Green Belt Movement, won the Nobel Peace Prize in 2004 for her work in Kenya. Empowering women in local communities and environmental advocacy were two of her life passions.
Volunteerism and Environment Conservation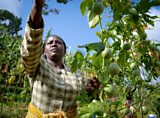 One of the women who volunteers with the Green Belt Movement in Kenya. She works at one of the education sites where women are taught how to successfully tend to tree seedlings and the value of maintaining tree growth in the region.
Women at the Tree Nursery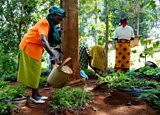 Since 1977, the Green Belt Movement has planted over 51 million trees in Kenya, in watersheds located within three of the five main mountain ecosystems in the country. These little seedlings are one of the first steps needed in maintaining forest prosperity.