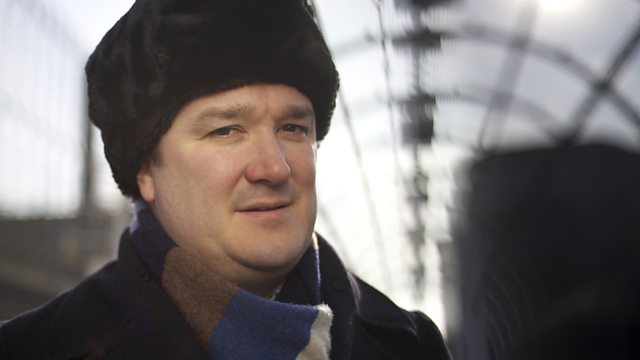 Learning Zone
A version made specially for schools of the BBC Two history series on Britain and the Cold War, looking at the period from the end of the 1950s to the mid-1970s, presented by Dominic Sandbrook.
The compilation of short films includes:
The Ash Heap of History - President Ronald Reagan arrives in London in June 1982. He delivers a speech in Parliament in which he predicts the future course of the Cold War by using the phrase 'ash heap of history'. The speech was a manifesto of the Reagan Doctrine. Prime Minister Thatcher felt that this speech was a new chapter in the Cold War.
Winston Churchill's Iron Curtain Speech - Churchill announces the allied victory in his VE Day speech but is then defeated in the 1945 election two months later. In the spring of 1946, Churchill goes on holiday to America where he makes the speech in which he refers to the Iron Curtain. The speech is seen by many as the beginning of the Cold War as well as asserting the need for a special relationship between America and the UK.
1956 Hungary and Suez - In October 1956, the Bolshoi Ballet arrive in London. It is an example of 'soft power'. At the same time, two events take place in Hungary and at the Suez Canal which are examples of 'hard power'. In Hungary, thousands of people take to the streets, demanding an end to Soviet rule. Moscow responds by sending in troops and tanks, killing thousands of Hungarians. In Egypt, the government nationalises the Suez Canal. Britain no longer has control over this vital trade route. Prime Minister Eden tries to take it back.
Margaret Thatcher - The Iron Lady - Mrs Thatcher's image as a Cold War warrior developed, in part, as a result of an article written by a Soviet journalist in 1976. The journalist coined the phrase Iron Lady. Mrs Thatcher embraces this name. She becomes committed to defeating communism at all costs. She staunchly supports America and in 1987 makes a trip to Moscow where she confronts Mikhail Gorbachev, the leader of the Soviet Union, on his political and economic policies.
Last on
Credits
| Role | Contributor |
| --- | --- |
| Presenter | Dominic Sandbrook |
Featured in...
KS4. Engaging short films exploring history and religion for 14-16 year-olds.