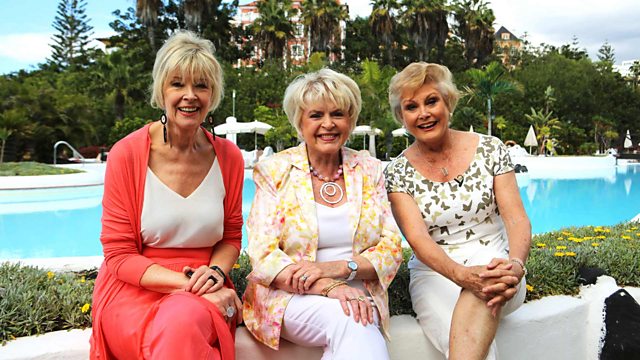 Angela Rippon, Gloria Hunniford and Julia Somerville return with a special week of programmes from Tenerife investigating viewers' holiday disasters, with invaluable advice to avoid being caught out the same way.
The team meet people querying a big name company's price promise, and reveal how your mobile bills can rack up costs of hundreds of pounds while abroad.
Plus, holidays with prices that keep on changing, how booking your trip a certain way may leave you unprotected if things go wrong, and Simon Calder has scam-busting advice about visiting one of the top package holiday destinations.
Last on
Travel with the correct visa
UK passport holders are lucky to be able to travel to many parts of the world without a visa. If you are travelling outside of Europe it is always best to check whether you need one at the time of booking. ABTA registered travel agents and tour operators can tell you. But if you are making your own arrangements, you can find visa information at the Foreign Office website.
Many countries will require you to attend an interview and will charge for visas, so bear this in mind when booking and leave yourself time to apply. Visas for some countries, such as Australia and the USA can be applied for online. However in certain circumstances you may find that you are also required to have an interview in person. This is particularly likely to be the case if you have a criminal record or even if you have been cautioned by the police. If you fall into either of these categories it may be advisable to obtain your visa before you book.
If anyone in your party is not a UK passport holder they may be required to get a visa for countries where you do not. The ABTA website has more top tips.
Visas: Watch our advice videos
P&O Ferries
An item on 'Rip Off Britain: Holidays' broadcast on January 9th about P&O Cruises included some background shots of P&O Ferries. P&O Ferries have pointed out that they are an entirely separate company to P&O Cruises, and we are happy to make clear the distinction between the two.
How much should you be tipping when abroad
Service cultures differ from country to country. Strictly speaking, a tip is defined as a small personal reward given to someone who has provided a good service beyond the amount paid for the task. 
In the USA, tipping is expected. In Japan however, it's considered offensive.
Often you will find restaurants will add an amount to the bill which they would like to charge you as a tip. Our travel expert Simon Calder suggests that tipping around 20% the amount of the bill is reasonable. But be careful you don't end up spending a fortune on tips during your break which you may not have budgeted for.
Credits
| Role | Contributor |
| --- | --- |
| Presenter | Gloria Hunniford |
| Presenter | Angela Rippon |
| Presenter | Julia Somerville |
| Participant | Simon Calder |