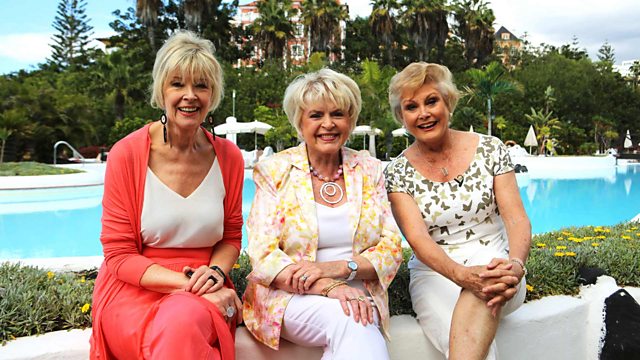 Angela Rippon, Gloria Hunniford and Julia Somerville return with a special week of programmes from Tenerife investigating viewers' holiday disasters, with invaluable advice to avoid being caught out the same way.
The team hear of the families who struggled to escape a terrifying hotel fire - were the alarms working as they should have been? And, with more airlines encouraging passengers to take only hand luggage on board, what happens to your bag and your valuables if they won't fit into the cabin?
Plus, travel expert Simon Calder has tips on visiting one of the world's top family destinations; disabled travellers reveal how their holidays have been ruined by easily avoidable mistakes; and there's advice on what to do when a holiday doesn't live up to what was promised.
Last on
Vacation or Staycation – get the right holiday cover
According to ABTA, 16% of consumers mistakenly believe that travel insurance is unnecessary. Our holiday expert Simon Calder's advice is to always buy insurance to cover you the second y you book a holiday. Who knows what might happen between booking and travelling?
You may also think you're covered by other forms of protection, such as the European Health Insurance Card (EHIC) or a credit card, but neither offers the scope of protection that insurance does. Consider the range of problems you may meet overseas.
Find out more details about what your travel insurance policy should cover, how to choose the best package, and other specialist policies here.
Don't get ripped off using public transport abroad
Once you've arrived at your holiday destination, working out a way to navigate the local transport system to get to your hotel can be tricky. And if you're not 'in the know' about going rates, you may well end up spending more than you need to.
If you're taking a taxi into a town from an airport in Europe, the maximum fare you should pay is 55 euro. If the driver won't accept that, find one who will. That fare should also cover four people and luggage. Never accept a lift from an unlicensed taxi, a stranger or someone you don't trust, and try to travel with a friend.
Similarly, be wary of scams at railway stations.  As we hear this series of Rip Off Britain: Holidays, a helpful stranger may not be all that innocent. Always make sure you are seeking travel advice from the official information services, otherwise you could up paying a hefty sum for a ticket which you can't use.
And stay safe. According to ABTA, buses in some countries a don' have to abide by strict health and safety rules. So, use your judgement: does the vehicle look road-worthy? Is it overcrowded? If so, don't travel. And don't forget your seatbelt.
Credits
| Role | Contributor |
| --- | --- |
| Presenter | Gloria Hunniford |
| Presenter | Angela Rippon |
| Presenter | Julia Somerville |
| Participant | Simon Calder |