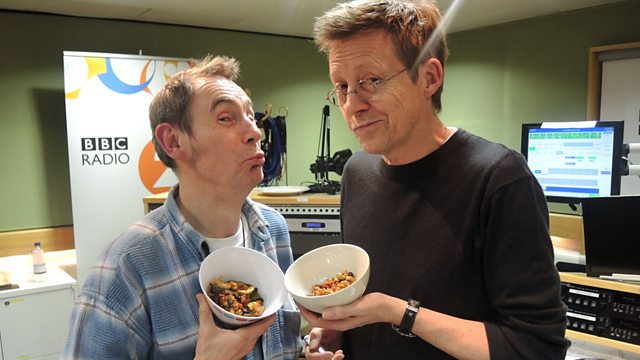 Foodie Thursday - Chilli Con Cashew
Simon Mayo is joined by our resident chef Nigel Barden for another Foodie Thursday! Plus there's a brand new listener confession for the team to consider - but will they forgive?
Matt has the sports news, Rebecca is on the money and Sally updates the travel.
Last on
Find out how to contribute to our celebration of the godfather of English Folk Music.
Chilli Con Cashews by Gill Gibson
Chilli Con Cashews by Gill Gibson from The Land of Liberty, Peace & Plenty Pub, Heronsgate, Rickmansworth, Hertfordshire WD3 5BS  Tel. 01923 282226 
Serves 6 
Prep time 20 mins
Cooking time 11Ž2 hrs approx 
Ingredients
5 tbsp olive oil (not virgin, blended is good)
2 large onions chopped (6-8mm)
4 cloves garlic crushed or finely chopped
250g carrots coarsely grated
2 green peppers chopped coarsely (like julienne strips 4-6mm thick 15-30mm long)
3 green cardamom pods (grind whole in a pestle & mortar until seeds are ground & then remove the bits of husk)
2 x 400g tins of plum tomatoes
600g (1½ tins) of red kidney beans
300g cashews (plain)
¾ tbsp cumin seeds
½ tbsp fennel seeds
½ tbsp ground cumin
½  tsp ground chilli powder
2 bay leaves
250g courgettes, diced about 8mm
½ tbsp chopped fresh rosemary, or 1 tsp dried. 
Method
1.Cut up the onion, garlic & celery.
2.Heat the oil to slight smoking; drop in the cumin & fennel seeds & let them sizzle for a few seconds but do not burn.
3.Drop in the onions, celery & garlic & turn down gas, mix veg & crushed ground cumin together until the onion is coated in oil.
4.Cover & sweat the veg for 5 mins while cutting up the peppers.
5.Add the peppers.
6.Grate the carrots into the mixture, mix it all up & continue sweating all the ingredients until the peppers are softened (about 10 mins).
7.Add bay leaves, ground cumin & chilli powder.
8.Add tomatoes (cut them up in the pot so they are roughly chopped).
9.Add rosemary, cashews & kidney beans.
10.Simmer on lowest possible heat for 1 hr.  Stir from time to time & ensure it does not stick.
11.Add diced courgettes & simmer for another 20 mins.
12.Serve American style with corn bread, or wholewheat pasta. In the pub they serve it with basmati rice.
Nigel's Top Tips
You can portion & freeze it.
If you want a bit of colour contrast, sprinkle chopped parsley or coriander over the top.
The key is sweating down the veg until soft, they will caramelise nicely & give it a natural sweetness.
Today's Most Popular Tracks
Most added tracks from this show