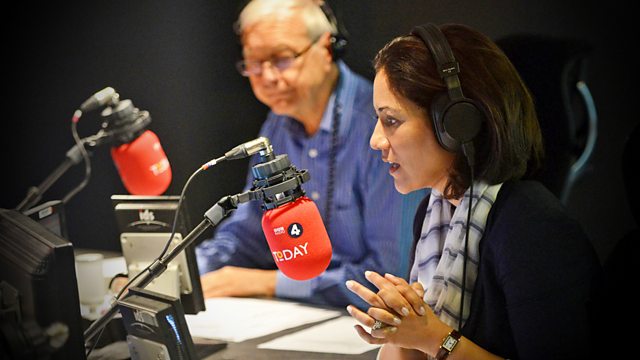 04/01/2014
Morning news and current affairs. Including Sports Desk, Thought for the Day and Weather.
Last on
Life Inside 'Islamic State': Diaries
Today's running order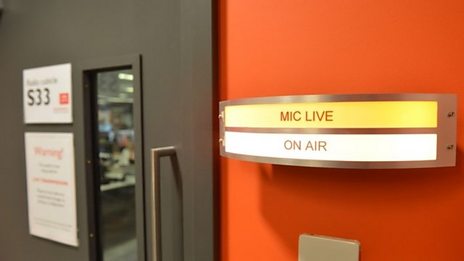 With James Naughtie and Mishal Husain.
Today's running order

Subject to change




0710

Further stormy weather and some snow are expected across many parts of the UK over the weekend. The BBC's Simon Clemison reports.

0713

The paper review.

0717

The Halifax says that the number of first-time house buyers jumped by 22% last year - the largest annual increase for 12 years. Martin Ellis, the bank's chief housing economist, discusses.

0720

Professors Sian Harding and Sarah Rankin of the Imperial College's Centre for Translational and Experimental Medicine discuss how you engage the public with complex medical research.

0732

Eleven people have died in clashes between police and Muslim Brotherhood demonstrators across Egypt, the health ministry says. The BBC's foreign correspondent Bethany Bell reports; plus Ambassador Salah el Sadek discusses.

0740

The paper review.

0743

A 5-day fasting regime - repeated every two months - may be enough to control weight and develop a resistance to several diseases, according to scientists in California. The BBC's Peter Bowes discovers more.

0747

Thought for the Day, with the Reverend Rob Marshall, team rector of East Ham.

0751

Hundreds of homes have been flooded, with residents having to be evacuated in Dorset and Aberystwyth. Aidan Kerr from the Association of British Insurers speaks to presenter James Naughtie.

0810

Direct talks aimed at ending weeks of violence in South Sudan are due to begin. The BBC's Alastair Leithead reports; plus Barnaba Marial Benjamin, South Sudan foreign affairs minister, speaks to presenter Mishal Husain.

0817

The Sun columnist Trevor Kavanagh and Dr Nerina Ramlakhan, author of Tired but Wired, discuss addiction to social media.

0829

Hundreds of homes have been flooded, with residents having been evacuated in Dorset and Aberystwyth. The Today programme's Tom Bateman reports from Somerset.

0838

The BBC's political editor Nick Robinson meets three politicians to find out exactly how much of the nation's politics comes from discussions over lunch.

0845

The paper review.

0848

On the Today programme, 3 January, Maureen Greaves - whose husband Alan was killed as he walked to midnight mass on Christmas Eve 2012 - said that she was able to forgive the man who had committed the murder. Rev Julie Nicholson, whose daughter Jenny was killed in the 7/7 London bombings, and Jo Berry, whose father Anthony Berry was killed in the Brighton bombings, discuss.
See more live updates