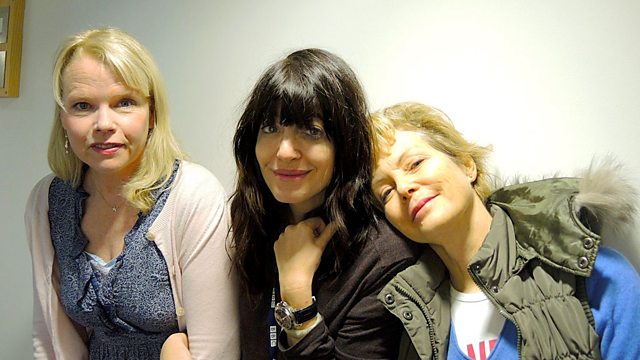 Jenny Seagrove, Sara Crowe, Jeff Kinney
Jenny Seagrove and Sara Crowe chat to Claudia about starring in Noel Coward's Fallen Angels.
Jeff Kinney explains why being boring is the secret to selling millions of copies of his Diary of a Wimpy Kid series.
Artistic Directors of the London International Mime Festival, Helen Lannaghan and Joseph Seelig will attempt to make the artform work on radio.
Back by popular demand, we go behind the scenes of Fuerzabruta at the Roundhouse
Plus films with Helen O'Hara, books with Samantha Buckley.
Last on
Jenny Seagrove and Sara Crowe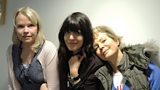 Jenny Seagrove and Sara Crowe star in Noel Coward's Fallen Angels - a comedy about the rivalry between two bored married women as they await the arrival of their exotic former lover.

As Jane and Julia's lacklustre husbands set off for a golfing weekend, a postcard arrives announcing the imminent visit of the dashing Maurice, but what will happen when Maurice arrives?
Fallen Angels is on tour from the 20th January starting at the Royal Theatre Windsor. 
Director Steve McQueen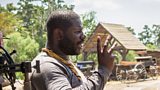 British director and Turner Prize winning artist Steve McQueen talks to Arts Show reporter Thomas Magill about his new film 12 Years A Slave.
It tells the true story of Solomon Northup, a black musician born free but then kidnapped and sold into slavery. 
12 Years a Slave is out now, certificate 15
Jeff Kinney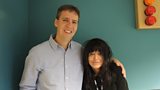 It's one thing to enjoy doing a few doodles and cartoons in a student newspaper, but it's quite another to turn those stories about an ordinary boy called Greg Heffley into books that have sold over 70 million copies worldwide. But that's exactly what Jeff Kinney managed with the phenomenal success of his Diary of A Wimpy Kid series. It seems children can't get enough of Greg as he struggles through his very normal life.
Diary Of A Wimpy Kid: Hard Luck by Jeff Kinney is out now.
Helen Lannaghan And Joseph Seelig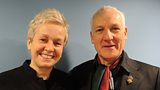 Mime on the radio is quite a tricky sell, but if anyone can do it, it's Helen Lannaghan and Joseph Seelig, artistic directors of the London International Mime Festival which is now in it's 38th year.
The London International Mime Festival runs until 1st February.
Film Review with Helen O'Hara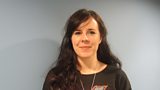 1: 12 YEARS A SLAVE
Director: Steve McQueen

Cast:      Chiwetel Ejiofor, Michael Fassbender, Benedict Cumberbatch, Brad Pitt
12 Years A Slave is based on an incredible true story of one man's fight for survival and freedom.  In the pre-Civil War United States, Solomon Northup, a free black man from upstate New York, is abducted and sold into slavery.  Facing cruelty personified by a malevolent slave owner, as well as unexpected kindnesses, Solomon struggles not only to stay alive, but to retain his dignity.  In the twelfth year of his unforgettable odyssey, Solomon's chance meeting with a Canadian abolitionist forever alters his life.
12 Years a Slave is out now, certificate 15
2: The Railway Man

Director: Jonathan Teplitzky
Cast: Colin Firth, Nicole Kidman, Jeremy Irvine, Stellan Skarsgård

Based on his best-selling memoir, The Railway Man tells the extraordinary and epic true story of Eric Lomax, a British Army officer who is tormented as a prisoner of war at a Japanese labour camp during World War II.  Decades later, Lomax discovers that the Japanese interpreter he holds responsible for much of his treatment is still alive and sets out to confront him, and his haunting past. 
The Railway Man is in cinemas from today rated 15.
3: LAST VEGAS
Dir: Jon Turteltaub
Cast: Michael Douglas, Robert De Niro, Morgan Freeman, Kevin Kline
Billy, Paddy, Archie, and Sam have been best friends since childhood. So when Billy, the group's sworn bachelor, finally proposes to his thirty-something girlfriend, the four head to Las Vegas with a plan to stop acting their age and relive their glory days. However, upon arriving, the four quickly realize that the decades have transformed Sin City and tested their friendship in ways they never imagined. The Rat Pack may have once played the Sands and Cirque du Soleil may now rule the Strip, but it's these four who are taking over Vegas.
Last Vegas is out now, certificate 12A

4: DVD/BLU RAY
RIDDICK
DIR: David Twohy
Cast: Vin Diesel
Betrayed by his own kind and left for dead on a desolate planet, Riddick fights for survival against alien predators and becomes more powerful and dangerous than ever before. Soon bounty hunters from throughout the galaxy descend on Riddick only to find themselves pawns in his greater scheme for revenge. With his enemies right where he wants them, Riddick unleashes a vicious attack of vengeance.

Riddick is out on DVD and BluRay from Monday, certificate 15.
Book Review with Samantha Buckley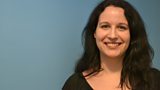 The Invention of Wings by Sue Monk Kidd
This is based on the true story of Sarah Grimke, a 19th century abolitionist and women's rights pioneer. On her 11th birthday she was given ownership of 10 year old slave, Hetty, and the novel is told in alternating chapters by these two characters as they grow up.

The Crooked Maid by Dan Vyleta
A thriller set in post-war Vienna, with a host of intriguing characters all loosely tied to the disappearance of a returned POW; the apparent murder of a factory owner by his son, a former Gestapo officer; and a mysterious man in a red scarf who seems to be watching them all.
PERSONAL PICK
State of Wonder by Ann Patchett
This is a contemporary novel set largely in the Amazonian jungle. A pharmaceutical company sends one of their scientists to a remote tribe to try and uncover the truth behind the disappearance of one of their research team, and to report back on the progress being made by the scientist in charge of the team stationed there, who is proving reluctant to share her findings.
The scientist is Marina Singh, a single woman in her 40s, emotionally repressed, and who has spent most of her life in the highly controlled and sterile confines of a laboratory.