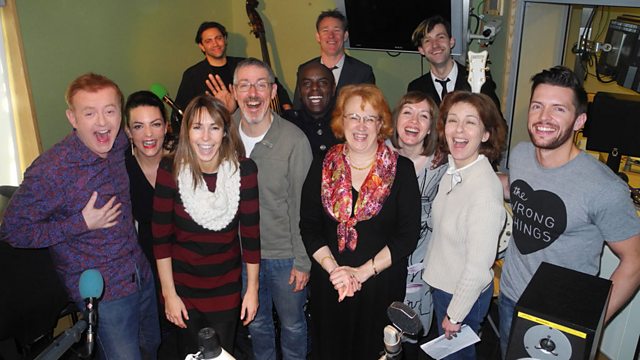 10/01/2014
Chris revs things up in his first big Friday show of 2014 with guests Kylie Minogue, Griff Rhys Jones and Caro Emerald.
Last on
Pause for Thought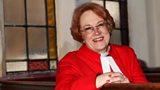 From Canon Ann Easter, Chief Executive of a Charity and Chaplain to the Queen:
We were all exchanging presents one Christmas when I opened a gift from my sister-in-law; it was a triangle of black fabric, about as big as my palm, with Merry Christmas embroidered on it and then it had bits of elastic going off at odd angles. I thought it might be an eye patch  til my daughter grabbed it from me hissing, 'Mum! It's a thong!!
I thanked my sister-in-law warmly but then, since I've got a lot of perhaps more comfortable garments,it was consigned to the back of a drawer.....
Until I was collecting bits for the church jumble sale, so I popped it in the bag with everything else and went off to open the church hall for the ladies who'd very kindly offered to sort out the tons of jumble we'd accumulated. They ploughed in with gusto and I went off to the school to do my usual Friday afternoon assembly.
There was a queue of eager shoppers already outside when I went back to church, so I went to see if the ladies were ready for the onslaught. There was a lot of giggling and nudging as one of the ladies said 'Ann, we've got something for you. Close your eyes and open your hands' – and, of course, it was my eye-patch-thong-thing...but my street cred went up no end when I said – Actually, I put it in!'
It's time to regift some of the abundance that came with Christmas; if you can't move in your bathroom for bubble bath,  I'm sure there'll be someone you know who'd really appreciate a little luxury for their birthday – but do be careful to take off the label.  And if you've now got enough socks for a centipede, your local homeless shelter would love them. And since we're all in slimming mode, I'm taking those nice chocolate biscuits to my next committee meeting – they'll brighten it up no end.
Most of us are so very fortunate and have more than enough to share – and, you know what? When we gathered up what was left after the jumble sale, my little present was gone – I hope someone got a lot of fun out of it!
The Overall Most Popular Tracks
Most added tracks from this show