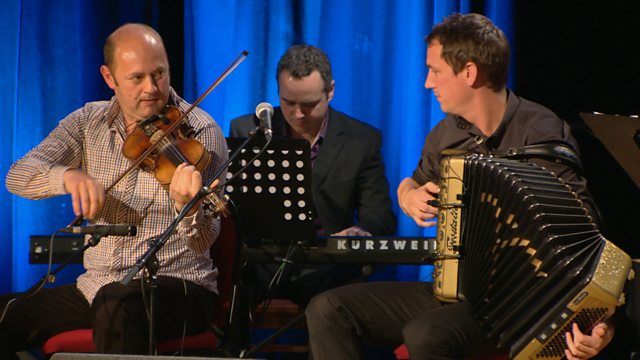 Ceol, Camanachd is Cogadh
Tha Ceòl, Camanachd is Cogadh a'deanamh luaidh air gaisgich na camanachd a chaill am beatha anns a Chiad Chogaidh agus cuideachd a'moladh spòrs a tha na phairt mhòr de chultar na Gàidheal.
Air a'libhrigeadh le Linda NicLeòid, tha a'chuirm ciùil seo a'taisbeanadh na ceangalaichean agus an daimh a tha eadar ceol, camanachd is cogadh Nuair a thog sgioba a'Mhanachainn Cupa na Camanachd ann a 1913, cha robh fios aig na cluicheadairean gu robh iad dol a'sgrìobhadh caibideal ann an eachdraidh ri linn's gu robh iad air iomall a'Chogaidh Mhòir.
Ceud bliadhna as deidh sin, air an oidhche ro' chuairt dheireannach cupa na Camanachd, chuir an craoladair Uisdean MacGill-Fhinnein agus cluicheadair-iomain agus neach-ciùil chliùteach, Gary Innes, cuirm ciùil air bhonn a bha a'tarraing ceòl, camanachd agus a'Chogaidh Mhòir ri chèile.
A tribute concert that reveals the links between shinty, music and the Great War. A highlight of the Blas Festival, 2013, the music was recorded just before the biggest annual event in the shinty
calendar: the Camanachd Cup.
When Beauly lifted the Camanachd Cup in 1913, after defeating Kyles Athletic in Kingussie, none of the players could have been aware they were about to write their own chapter of history. The Great War - the defining event of the 20th century - was about to be thrust upon them.
A century later, on the eve of the Camanachd Cup Final 2013, writer and broadcaster Hugh Dan MacLennan, along with Gary Innes, shinty player and musician, hosted a concert in tribute to the game of shinty and the heroes of the game, many of whom gave their lives in WW1.
Credits
| Role | Contributor |
| --- | --- |
| Presenter | Linda MacLeod |