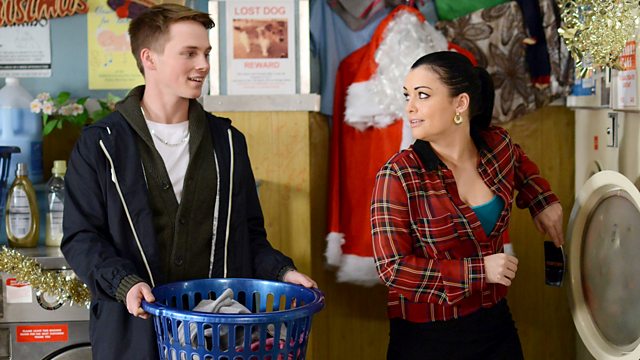 30/12/2013
Roxy staggers home with Carl and defiantly kisses him in full view of Ronnie. Phil warns Ronne she's going to push Roxy away. Roxy's taken aback when she spots a familiar ring in the pawn shop window. Ronnie finds drugs in Roxy's handbag and washes them down the sink. Though furious at Ronnie for snooping, Roxy admits Carl slipped the drugs in her Christmas card. Roxy's adamant she didn't take any but Ronnie brings up her past drug issues. Roxy shows Ronnie the ring she bought from the pawn shop – it's Archie's signet ring. Unsettled, Ronnie insists Archie brings them trouble, she's going to get rid of it. Ronnie warns Carl never to give Roxy drugs again; does he want to find out what she'd do to protect Roxy? Carl's dismissive. Ronnie then finds Roxy and claims Carl made a move on her. Outraged, Roxy confronts Carl who insists Ronnie's playing mind games. Roxy's torn but eventually turns on Ronnie and tells her she should keep the ring - she and Archie are just the same. Roxy and Carl head back to his flat. Once Roxy's gone inside, Carl notices Ronnie waiting in the shadows. He promises Ronnie Roxy won't be getting on the plane to Ibiza. He goes inside and Ronnie's face hardens. C/H
Tina bickers with Shirley about their room. Out walking Lady Di, Johnny comes to Whitney's rescue when she drops the Butchers' washing. Seeing them, Linda calls Mick to the window, embarrassing Johnny. Johnny and Mick hand out flyers for a New Year's Eve party at the Vic. Lady Di takes a liking to Tramp but barks at Alfie. Johnny talks to Whitney in the launderette and notices Danny. Dot's unimpressed when Mick brings Lady Di in. Mick tells Sadie and Jake Linda spoils Johnny rotten. Dot comes to the Vic but, unamused by Lady Di's name and Mick calling her Dot, refuses to have a drink. Johnny's uncomfortable when Danny compliments him. Terry, Max, Alfie, Johnny, Mick and Tina play a darts drinking game. Whitney buys Johnny a thank you drink. Johnny quickly gets drunk and then escapes outside. Mick takes out the letter that arrived addressed to 'The Carter Family'– it's an invitation to Nancy Carter's wedding. Danny joins Johnny in the Square. After asking Danny if he meant his compliment, Johnny kisses him. Shirley sees this but goes back inside without making her presence known.
Sharon arrives to see Phil just as Ronnie's admitting she always thought he'd end up with Shirley. Phil talks Sharon round and suggests they give it another go. Later, Sharon tells Shirley and Linda she and Phil are back together – boasting that Phil practically begged her. Shirley counters that she told Phil Sharon would say yes when she turned him down. Humiliated, Sharon rants at Phil, who can't understand the problem. Sharon walks out - she's nobody's rebound.
Dexter's upbeat when Lola reveals Peter dumped her. Peter's still angry with Ian. Peter asks Dexter if Lola's alright and tells him that Cindy stole Phil's £10,000. Dexter's furious but Peter implores him to let Ian sort it out. Peter persuades Ian to return the money to Phil that day. Ian does, assuring Phil he's replaced the money Cindy's spent. Phil's livid, sure Ian put Cindy up to it but Sharon defuses the situation. Dexter tells Lola he's going to take her somewhere really nice with the money he'll get back from Phil.
Billy's out of his depth running Butcher's Joints alone; he initially turns down Lucy's offer of an extra pair of hands but later asks her to come back. Billy's accidentally double let a property. Lucy saves the day and then takes over Janine's desk and announces Danny's coming back. Danny's keen to move back into one of Janine's empty flats.
Last on
Credits
| Role | Contributor |
| --- | --- |
| Ronnie Mitchell | Samantha Womack |
| Carl White | Daniel Coonan |
| Roxy Mitchell | Rita Simons |
| Phil Mitchell | Steve McFadden |
| Sharon Rickman | Letitia Dean |
| Shirley Carter | Linda Henry |
| Tina Carter | Luisa Bradshaw-White |
| Mick Carter | Danny Dyer |
| Linda Carter | Kellie Bright |
| Johnny Carter | Sam Strike |
| Danny Pennant | Gary Lucy |
| Lucy Beale | Hetti Bywater |
| Billy Mitchell | Perry Fenwick |
| Lola Pearce | Danielle Harold |
| Peter Beale | Ben Hardy |
| Ian Beale | Adam Woodyatt |
| Dot Branning | June Brown |
| Whitney Dean | Shona McGarty |
| Terry Spraggan | Terry Alderton |
| Alfie Moon | Shane Richie |
| Max Branning | Jake Wood |
| Abi Branning | Lorna Fitzgerald |
| Tamwar Masood | Himesh Patel |
| Dexter Hartman | Khali Best |
| Jake Stone | Jamie Lomas |
| Sadie Young | Kate Magowan |
| Executive Producer | Dominic Treadwell-Collins |
| Director | Rupert Such |
| Writer | Pete Lawson |