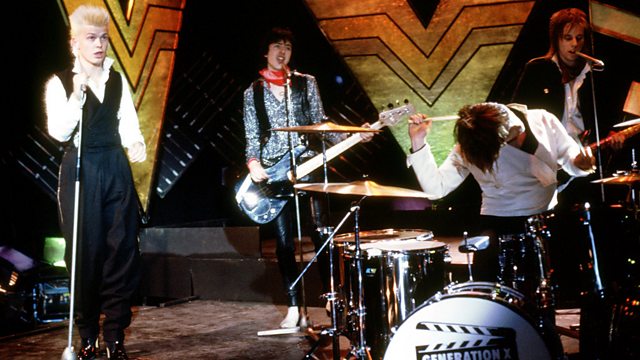 The Story of 1979
1979 was a unique year for Top of the Pops, which saw the show record its highest audience of 19 million viewers and in which physical format singles sales hit an all-time high of 79 million. 1979 is maybe the most diverse year ever for acts on Top of the Pops with disco at its peak, new wave, 2 Tone, reggae, rock, folk and electro records all making the top five.
Original interviews with Gary Numan, Nile Rodgers, Woody from Madness, Jah Wobble, Chas and Dave, Janet Kay, Linda Nolan, Jim Dooley, Secret Affair, the Ruts, Legs and Co and many others tell the story of an exceptional year.
In the year that the 'winter of discontent' saw continuing strikes black out ITV and TOTP reduced during a technicians strike to a narrator introducing videos, the show also found itself the site of conflict backstage. TOTP's old guard of 70s MOR acts had their feathers continually ruffled by new wave bands, as the Skids spat at the Nolan Sisters backstage and Generation X urinated off the roof onto the Dooleys.
Elsewhere in the corridors of TV Centre, in preparation for playing their single Death Disco, Public Image Ltd demanded their teeth were blacked out in make-up to appear ugly while Gary Numan remembers the overbearing union presence which prevented TOTP artists moving their own microphones without a union technician and the Musicians Union trying to ban him from the show for his use of synthesizers.
The most popular musical styles of 1979 were 2 Tone, reggae and disco. The latter saw Nile Rodgers, the man of the year, score four hits with Chic as well as writing and producing a further four hits with Sister Sledge, Sheila B Devotion and Sugarhill Gang, who appeared with what would prove to be the first ever rap hit.
Jamaican and UK reggae artists scored continual hits through the year and then watched as the Police notched up three hits with white reggae and the label 2 Tone revived the 60s reggae style known as ska. In November, in what is remembered as the 2 Tone edition, all three of the label's new acts - Madness, Specials and Selecter - appeared on one historic night and took the show by storm, with Madness capping off their performance of One Step Beyond by leading a 'nutty train' conga through the studio.
Last on
Credits
| Role | Contributor |
| --- | --- |
| Producer | Matt O'Casey |
| Director | Matt O'Casey |
| Executive Producer | Mark Cooper |