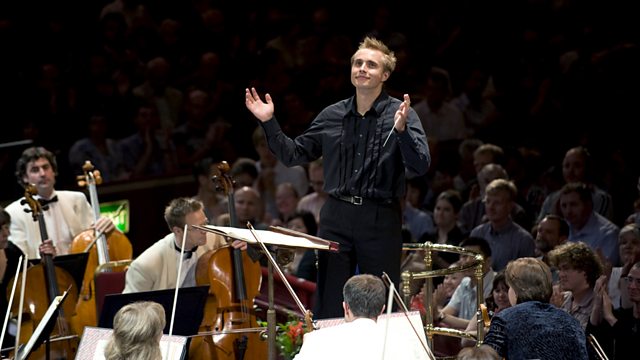 Prom 69: Beethoven, Bruckner
The Oslo Philharmonic Orchestra and Vasily Petrenko play Bruckner's Fourth Symphony, and, with Christian Ihle Hadland, Beethoven's Second Piano Concerto.
From the 2013 BBC Proms at the Royal Albert Hall, London
Presented by Andrew McGregor
Beethoven: Piano Concerto No 2 in B flat major
Bruckner: Symphony No 4 in E flat major, 'Romantic'
Christian Ihle Hadland (piano)
Oslo Philharmonic Orchestra
Vasily Petrenko (conductor)
In their second Proms appearance last summer Vasily Petrenko and the Oslo Philharmonic explored the Romantic landscape and Schubertian echoes of Bruckner's Fourth Symphony. Repeatedly revised by the composer during his lifetime, the symphony opens with a radiant sunrise.
Before that, Christian Ihle Hadland joined Petrenko and the orchestra for Beethoven's Second Piano Concerto, built on the Mozartian model but already pointing to the bold gestures of the composer's maturity.
First broadcast in September 2013.
Last on