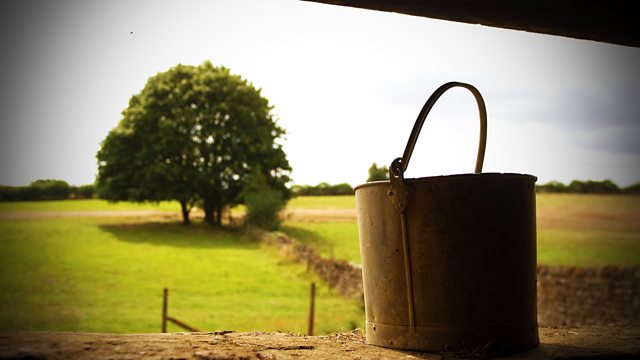 03/01/2014
Joe visits Peggy to pay his respects, and they discuss Jack's legacy in the village. Peggy's glad to hear Darrell and Rosa are back on speaking terms.
Driving back in the trap, Joe fills Eddie in on what a hard life Peggy's had. Eddie demurs, but tells Joe not to go on about it. He's trying to keep Darrell on the up. He's just telling Joe he'd like convert Fat Paul's old truck for Darrell, when they're nearly run off the road by Jill in her car.
Ruth lets David know he'll be doing the milking next Thursday. She's taking Jill to the hairdresser. Anything's better than Jill driving herself. But Ruth notices a diary clash later. They're just trying to sort out Jill's transport when, right on cue, Eddie arrives demanding they stop Jill from driving.
Jill recovers at Peggy's with a restorative cup of sweet tea. She's definitely not getting behind the wheel again! Peggy suggests she doesn't do anything hasty. A simple operation could solve the problem, couldn't it? They share memories of Jack over family photos, before Kenton arrives to collect Jill.
Alone at last, Peggy says her goodbyes to Jack to the strains of Love Is The Sweetest Thing.
Last on
Credits
| Role | Contributor |
| --- | --- |
| Jill Archer | Patricia Greene |
| Kenton Archer | Richard Attlee |
| David Archer | Tim Bentinck |
| Ruth Archer | Felicity Finch |
| Pat Archer | Patricia Gallimore |
| Helen Archer | Louiza Patikas |
| Tom Archer | Tom Graham |
| Jennifer Aldridge | Angela Piper |
| Adam Macy | Andrew Wincott |
| Matt Crawford | Kim Durham |
| Lilian Bellamy | Sunny Ormonde |
| Peggy Woolley | June Spencer |
| Jolene Archer | Buffy Davis |
| Joe Grundy | Edward Kelsey |
| Eddie Grundy | Trevor Harrison |
| Emma Grundy | Emerald O'Hanrahan |
| Mike Tucker | Terry Molloy |
| Lynda Snell | Carole Boyd |
| Kirsty Miller | Annabelle Dowler |
| Rob Titchener | Timothy Watson |
| Rosa Makepeace | Anna Piper |
| Writer | Joanna Toye |
| Director | Sean O'Connor |
| Editor | Sean O'Connor |