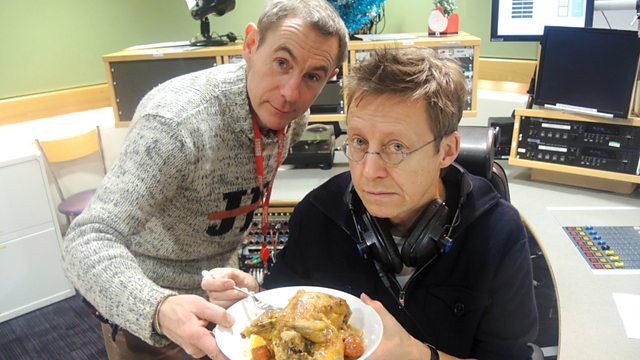 Foodie Thursday
Simon is joined by resident chef Nigel Barden for Foodie Thursday. What's on the menu for 2014? Plus Matt has the Sport, and Sally has the latest travel news.
Last on
Roast Pot Pheasant with Chorizo, Butter Beans and Parsley
Pheasant has a slight tendency to dryness but pot-roasting it like this, with plenty of rich chorizo to provide a little fat and extra flavour, ensures a very satisfying result. 
The butter beans are a fine addition: they soak up all the flavours of the meat, wine and herbs and then you can mash them deliciously into the juices on your plate. If you prefer, you can joint the pheasants and brown the individual pieces rather than the whole birds. This recipe works brilliantly for a couple of jointed rabbits, too.
Servings 4
Prep time 20 mins
Cook time 2hrs
Ingredients
A knob of butter
3 tbsp rapeseed or olive oil
2 onions, finely sliced
4 garlic cloves, finely sliced
A few sprigs of thyme
2 bay leaves
1 handful flat-leaf parsley, chopped
2 oven-ready pheasants
300g cooking chorizo, skin removed & cut into 2cm chunks,
400ml white wine
500ml vegetable, chicken or light pheasant stock
400g tin of butter beans, drained & rinsed
Sea salt & freshly ground black pepper
Method
Place a large flameproof casserole (one that will accommodate both birds) over a medium heat & heat the butter with 1 tbsp of the oil until foaming. Add the onions, garlic, thyme & bay leaves & cook for 10 mins, until the onions are soft & slightly golden. Heat the remaining oil in a large frying pan.
Season the pheasants all over with salt & pepper, add to the pan & brown on all sides over a high heat for 3–4 mins. Transfer to the casserole. Add the chorizo to the frying pan & fry for 3–4 mins, until browned, then add to the casserole too.
Deglaze the frying pan by pouring in a little of the wine & stirring to scrape up any bits from the base of the pan. Add to the pheasants with the rest of the wine, the stock & the butter beans. The liquid doesn't need to cover the birds but it should come at least halfway up.
Bring to a simmer, cover & place in an oven preheated to 140C/Gas Mark 1. Cook for 2 hrs, until the birds are tender.Remove the pheasants from the casserole & leave to rest in a warm place for 15–20 mins.  Add the parsley & season to taste. If the chorizo has released a lot of fat, skim some off the juices in the pan.
Cut the birds into halves or quarters & divide between 4 warm plates. Spoon over the chorizo, beans & sauce, & serve with mash, or lots of bread.
Today's Most Popular Tracks
Most added tracks from this show