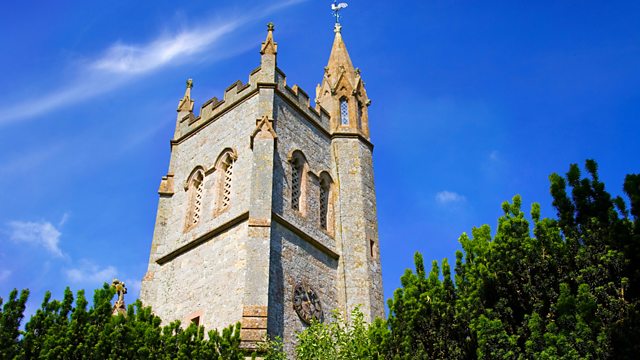 29/12/2013
'An Ikon of Light'
A service recorded in Little St Mary's Church, Cambridge with the Choir of Gonville and Caius College, Cambridge.
"All great art should have a message of hope." This was the belief of composer John Tavener who died in November. His music is renowned for its visionary luminosity, affording listeners a wonderful glimpse of the glory of God through its spacious lines. It has brought comfort to many in times of sorrow - such as at the funeral of Diana, Princess of Wales - and a radiancy in times of celebration.
Through his music, this morning's service, at the close of the year, explores aspects of Tavener's deep Christian faith and, whilst accepting what has been, focuses our attention on the future and the hope of what can be.
Leader: The Revd Dr Cally Hammond
Preacher: Prof Ben Quash
Music director: Geoffrey Webber
Organist: Liam Crangle
Producer: Simon Vivian.
Last on
Sunday Worship, exploring faith and inspiration of Sir John Tavener 29/12/13
Please note:

This script cannot exactly reflect the transmission, as it was prepared before the service was broadcast. It may include editorial notes prepared by the producer, and minor spelling and other errors that were corrected before the radio broadcast.

It may contain gaps to be filled in at the time so that prayers may reflect the needs of the world, and changes may also be made at the last minute for timing reasons, or to reflect current events. 
Radio 4 Opening Announcement: 
This is BBC Radio 4.  Now time for Sunday Worship which was recorded in Little St Mary's Church, Cambridge.  The Revd Canon Professor Ben Quash explores the faith and inspiration of composer Sir John Tavener who died in November.  It opens as the Choir of Gonville and Caius* College, Cambridge sing Tavener's carol 'The Lamb'.  The service is led by their Dean, The Revd Dr Cally Hammond, with prayers by the Vicar of Little St Mary's – Father Robert Mackley.
~ THE LAMB (Tavener)
~ The Revd Cally Hammond:
Welcome to this service, a celebration of the life and work of the composer John Tavener, who died last month at the age of 69.  John Tavener was a Christian all his life; an Orthodox Christian for most of his adult life. His works explore the riches of Orthodox prayer and worship, but they are written for, and performed by, Christians from many other traditions too.  His music challenges people to become aware of the divine life within them and around them.  So today we are celebrating his life as he would wish us to, by bringing his music to life in Christian worship.  By doing so, we are drawn in to the vision which inspired him, a vision of the hand of God at work in human history; and to the hope of making praise resound, worthy of the great truth of God-with-us – the Lamb who 'became a little child'.
~ Gathering prayer (Fr Mackley)
Praise and thanks to you, Father, Lord of all creation.
By your Word all things came into being, both visible and invisible. 
Around your throne the ranks of angels sing your praise,
in perfect harmony, a song unending:
Praise and thanks to you, Father, Lord of all creation.
And yet we also offer up our prayers, immortal Father,
Letting our restless hearts find rest in you.
Today we thank you for music, with music;
and so pour into us your courage and your strength:
Praise and thanks to you, Father, who with the Son and the Holy Spirit are One God, world without end.  ALL: AMEN
~ Hymn: CHRIST IS THE WORLD'S TRUE LIGHT
SECTION 1 – Time
~ Bible reading 1      Zechariah 14.6-9
A reading from the prophet Zechariah Chapter 14 beginning at verse 6:
On that day there shall not be either cold or frost.
And there shall be continuous day (it is known to the LORD), not day and not night, for at evening time there shall be light.
On that day living waters shall flow out from Jerusalem, half of them to the eastern sea and half of them to the western sea; it shall continue in summer as in winter.
And the LORD will become king over all the earth; on that day the LORD will be one and his name one.
~ Professor Ben Quash meditation 1
We stand at the turning of the year.  One of the things the end of one year and the beginning of a new one invites us to do is think about time itself – and how we live in it.
The ancient Hebrew word for 'year' is 'shanah'. Its root is a word that means both to repeat and to change. And, indeed, that's just what a year does. It comes full circle and begins all over again, but at the same time it does something different every time. It brings new growth if we're young, new wrinkles if we're old, and new experiences and challenges either way.
Tavener's music, famously, repeats – like the year itself. It's something his devotees praise about it, and his critics criticize. But whether you love or hate it, the circling movements of his music communicate to us something about what it is to live in time – you might even say they 'mirror' time. There is repetition, and there is change. The circle never brings us back to the exact spot on which we once stood; it's more like a spiral that in coming round also moves us on.
In Lewis Carroll's Alice in Wonderland, at the Mad Hatter's tea party, we meet the Dormouse, whose experience of time is endless repetition with no progress. Round and round the table they go, moving one place to the left every time, and (perhaps not surprisingly) the Dormouse's reaction is to drift off to sleep at every opportunity. He embodies for me an attitude to life in time that is quite common in our own day – as it has been in some earlier epochs. It is fatalistic and disengaged. There is no point making plans. Time will bring whatever it will bring, and it will probably be just more of the same.
John Tavener's music sees much more to time than this; finds much more in the music of the spheres than endless repetition. As we're about to hear, he has a sense of the intense, extraordinary event-character of God's activity in history. God is with us - Christ is BORN! Time is super-charged with significance because the Saviour enters into it.
But if the dormouse in Alice represents one attitude towards living in time in which there is nothing to strive towards, only somnolence, then there's another attitude which is also very common in our modern world, to which Tavener's music also offers a corrective. It's a way of life in which there is no rest, only hurry. This attitude is perfectly embodied by the breathless anxiety of the White Rabbit – always late, and impatient with all those whom he meets along the way and who threaten to slow him down.  He is incapable of pausing, even for a moment.  But it's never really clear what all his busy-ness is for, or where it ultimately leads.
John Tavener believed that our true destination is God. This God is One we may and should strive for (that's a message for the Dormice among us). But at the same time this God is One in whom we may rest (that's a message for those of us who are White Rabbits). This God holds the creation in being – even time itself - with everlasting arms. This God, as we heard in the Book of *Zechariah*, guarantees the deep continuity in things that undergirds every transition from summer to winter, from winter to summer, from day to night and from night to day. He is king 'over all the earth'; he is 'one' and his name is 'one'.
~ GOD IS WITH US (Tavener)
~ Short prayer (The Revd Cally Hammond):
The LORD shall be king over all the earth: in that day shall there be one LORD, and his name one.
Master[1], lover of all humankind,
make the pure light of your divine knowledge shine in our hearts
and open the eyes of our mind to understand your message to us. 
You are the illumination of our souls and bodies, and to you we give glory:
ALL: Holy Lord, holy and strong, holy and immortal, have mercy upon us.
SECTION 2 - Wonder
~ Short Bible reading 2       1 John 1:1-2, 5-7
A reading from the first epistle of John, Chapter 1
1We declare to you what was from the beginning, what we have heard, what we have seen with our eyes, what we have looked at and touched with our hands, concerning the word of life— 2this life was revealed, and we have seen it and testify to it, and declare to you the eternal life that was with the Father and was revealed to us.  5 This is the message we have heard from him and proclaim to you, that God is light and in him there is no darkness at all. 6If we say that we have fellowship with him while we are walking in darkness, we lie and do not do what is true; 7but if we walk in the light as he himself is in the light, we have fellowship with one another, and the blood of Jesus his Son cleanses us from all sin.
~ Professor Ben Quash meditation 2
In a moment, we're going to hear John Tavener's setting of George Herbert's famous poem Love. The anxious guest in that poem is a bit of a White Rabbit. He has to be stilled. His worried questions are gently answered, one by one, until he is brought to rest. He gradually learns how to sit down, and let himself be served, and eat.
In setting this poem to music – and others by Herbert – Tavener showed his deep attraction to a quality in the 17th-century British imagination which also continued into the 18th century, in the work of poets like Blake. It was a quality of intense wonderment that issued in contemplation. A wonderment like that we hear of in the first Letter of John, which marvels at what is revealed in the immediate, sensory realm of our existence: the 'word of life' revealed in things we can 'see with our eyes and touch with our hands'. Herbert's was an age when you did not risk being accused of naivety just because you had a sense of amazement at the sheer beauty of the world.
One of Tavener's favourite lines was from the Persian poet and mystic Rumi: 'sell cleverness, buy wonder'. As in Zechariah's image of living waters flowing out from Jerusalem to both East and West, which we heard earlier in the service, I think that part of Tavener's gift to us in his music is the recognition of a deep affinity between the untrammelled wonder of the 17th- and 18th-century British imagination and the traditions of Eastern liturgy and prayer which he found and loved in the Orthodox tradition. You'll hear the strains of the Eastern tradition everywhere in Tavener's sacred music. But they often represent an upsurge of ecstatic delight which doesn't so much contradict as amplify some of the great spiritual traditions that are native to our Atlantic islands. He sees a single, deep source to both. And to be caught up in this delight is to want to move ever more deeply into it, leaving behind us the traces of darkness in our old selves. Becoming Christ's guest.
~ LOVE BADE ME WELCOME (Tavener)
~ Short prayer (The Revd Cally Hammond):
Those who do what is true come to the light,
so that it may be clearly seen that their deeds have been done in God.
O Lord Christ, Son of God, enthroned on high,
think upon us your servants, who fall so short despite our deepest wishes;
set us free from the passionate strivings which beset us,
and which mar the happiness of mortal life, smirching the souls they feed upon: Jesus our Saviour, let us behold you, the Light most lovely,
ALL: Holy Lord, holy and strong, holy and immortal, have mercy upon us.
SECTION 3 - Light and Life
~ Bible reading 3     John 3:26-31
A reading from the Gospel of John Chapter 3 beginning at verse 26.
26They came to John and said to him, 'Rabbi, the one who was with you across the Jordan, to whom you testified, here he is baptizing, and all are going to him.' 27John answered, 'No one can receive anything except what has been given from heaven. 28You yourselves are my witnesses that I said, "I am not the Messiah,* but I have been sent ahead of him." 29He who has the bride is the bridegroom. The friend of the bridegroom, who stands and hears him, rejoices greatly at the bridegroom's voice. For this reason my joy has been fulfilled. 30He must increase, but I must decrease.'
31 The one who comes from above is above all; the one who is of the earth belongs to the earth and speaks about earthly things. The one who comes from heaven is above all.
~ Professor Ben Quash meditation 3
Tavener thought about his musical compositions as a matter of response. When composing, he tried to listen for what he called 'the voice' of God; the uncreated music of God. 'I do believe', he said, 'that there is a music that exists that it is possible for us as human beings to find that already exists in the cosmos.'
John the Baptist, in the reading we have just heard, speaks in a way that resonates with this outlook.  'No one', he says, 'can receive anything except what has been given from heaven'. And, by referring to himself as a 'friend of the bridegroom', he characterizes himself as who strains to hear the bridegroom's 'voice'.
The Baptist is a good companion at this turning of the year. Indeed, his statement about his cousin Jesus - 'he must increase and I must decrease' - is the text on which the very dating of Christmas as a feast was fixed. It's all to do with the transition from winter to summer; from the old year to the new. In those days, the 25th December was celebrated as the midwinter solstice, after which the light began to increase; the Baptist own feast would consequently be dated to the midsummer solstice, after which the light would begin to decrease, as the year turned again towards its next winter.
We are at the threshold of the year. But the greatest threshold of all, in human terms, is death: a threshold across which John Tavener has made his crossing in recent weeks – as well of course as that other great icon Mandela. Here too there is a powerfully strong Christian idea that in decreasing we find the seeds of increase. As Tavener's own Orthodox tradition asserts, we can hope to become more divine – to increase - because Christ became human – decreasing, or humbling himself. But we may only find this path if we turn away from self (as the Baptist did in relation to Christ); to turn, instead, towards the One greater than ourselves.
'Today the Virgin comes to the cave, to give birth to the Word eternal'. As we hear in Tavener's next piece, this cave – this dark place in the year – is the time when the Light of the World is born, and a New Year begins. And, as John Tavener believed when facing his own mortality, the dark point which is our death is also a threshold of light, across which we are delivered completely into the glorious life of God, which is ever new, and never grows old.
~ TODAY THE VIRGIN (Tavener)
~ Intercessions (Fr Robert Mackley)
Let us pray:
For the peace from on high and for the salvation of our souls let us pray to the Lord.
ALL: Lord, have mercy.
For the peace of the whole world, for the welfare of the holy churches of God,
and for the unity of all, let us pray to the Lord.
ALL: Lord, have mercy.
For this holy house, and for those who enter it with faith, reverence
and the fear of God, let us pray to the Lord.
ALL: Lord, have mercy.
For all Christians, both those in this world and those who worship with the saints in light – John Tavener and all God's beloved children.
ALL: Lord, have mercy.
Christ our God, the fulfilment of the Law and the Prophets,
you have fulfilled all the Father's dispensation.
Fill our hearts with joy and gladness, always, now and for ever,
and to the ages of ages:
ALL: Holy Lord, holy and strong, holy and immortal, have mercy upon us.
Our Father, who art in heaven,
hallowed be thy name;
thy kingdom come;
thy will be done;
on earth as it is in heaven.
Give us this day our daily bread.
And forgive us our trespasses,
as we forgive those who trespass against us.
And lead us not into temptation;
but deliver us from evil.
For thine is the kingdom,
the power, and the glory.
for ever and ever. Amen.
~ Hymn: OF THE FATHER'S HEART BEGOTTEN (arr Magnus Williamson)
~ Blessing (Fr Robert Mackley)
Christ who by his incarnation gathered into one things earthly and heavenly, fill you with peace and goodwill and make you partakers of the divine nature; and the blessing of God almighty – the Father, the Son and the Holy Spirit, be among you and remain with you always.
ALL: Amen.
~ Organ voluntary: Vom Himmel hoch da komm' ich her (BWV 606) (JS Bach)
[1]
This is from LSJCh prayer of the gospel