Philosopher Angie Hobbs
Anita Anand and JP Devlin with philosopher Angie Hobbs, poet Murray Lachlan Young, 11 year old popster Fynnjan Leach-Verhoeven and his mum Su, Saturday Live listener Ted Chance who made it into the Culture Club Christmas video in 1983, international football coach Paul Watson, 4th generation Salvation Army member Janet Martin, Andy Miller who's just finished a song he started 35 years ago, and the Inheritance Tracks of Boycie from Only Fools and Horses.
Producer Dixi Stewart.
Last on
Christmas Single: The Spirit of Christmas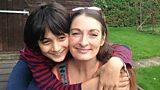 We've been following the story of eleven-year-old Fynnjan, who has Asperger's. He wrote the words and music to 'The Spirit of Christmas', which was such a hit locally that Fynnjan's mum, Su Verhoeven decided to release it as a charity single in time for Christmas. We catch up with Fynnjan and his mum live in the studio.
Listen to Fynnjan on Saturday Live back in October and November.
I Was There: Culture Club Christmas video
Saturday Live listener Ted Chance contacted the programme to tell us about the time he appeared in 'Victims', the Culture Club Christmas video of 1983.
Paul Watson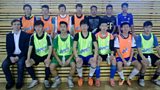 Paul Watson is an international football coach training teams in Micronesia and Mongolia. 
His book Up Pohnpei is published by Profile Books.  His documentary The Soccermen is due for release soon.
Paul's blog:  fourfourtwo
Janet Martin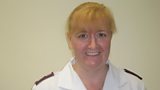 Janet Martin is a fourth generation Salvation Army Officer. Both her parents met in the Salvation Army and her grandparents and great grandparents were missionaries for the Church.  
God's Cadets – Joining the Salvation Army, on BBC Four, Tuesday 7 January at 9.00pm
Inheritance Tracks of John Challis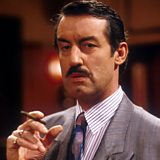 John Challis (AKA Boycie) chooses his Inheritance Tracks:
Peter Lind Hayes: Life Gets Tee-Jus, Don't It?
Whitesnake – Here I Go Again. 
Andy Miller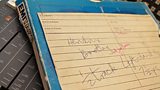 Former sound engineer Andy Miller came on Saturday Live earlier this year to listen to a tape labelled 'Jimi Hendrix and Jim Morrison bootleg' which he'd once given to his daughter Jess. What he heard was a demo of a song he'd written over 35 years ago. Now he has finally finished the song.
Thank You
This week's Thank You's are from Anna, James and Florence. 
Studio picture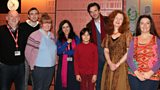 JP Devlin, Paul Watson, Janet Martin, Anita Anand, Fynnjan, Murray Lachlan Young, Angie Hobbs, Su Verhoeven. 
Murray's poem on 'Nothing'
If beyond everything there is nothing
And nothing knows nothing of things
And nothing knows nothing of nothing
Then everything's everything
And for every thing to be something
First something must say things are things
For without a thing, to decide things are things
Tell me how can a thing be a thing?
For when looking at things we can see they are things
So we know and we say they are things
For they look like a thing and they act like a thing
So of course then they must be the thing.
But when something says something is nothing
Then nothing is know by by a thing
So the thing that said something is nothing
Makes nothing a thing that's something
If beyond everything there is nothing
And nothing knows nothing of things
And something knows something of nothing
Can nothing not, not be a thing?
Murray's poem, A Word to the Wise
I stand before you today for a reason<?xml:namespace prefix = o ns = "urn:schemas-microsoft-com:office:office" />
That reason to some may not be clear
But reason there is and its simple
And I know I speak for the many who can't be here
For there comes a moment in a persons lifetime
When a person must stand up and say
All the things that that person was thinking
But has never has had the chance to say-
On behalf of the people who say nothing
But would like to say something but don't know what to say
To the people they think are not listening
To the things they thought that they wanted to say
About all of the things, out there that are, happening
And the things, out there that are, not happening as well
And all the things out there that might be on the verge of happening
But might or might not happen because it's a little too early to tell
And if those people, have truly not been thinking of listening
To the things that the people who wanted to say something
But didn't say it because they didn't know what to say, had to say
Then someone really must speak out for those people
And that is why I stand before you here today.
For when I say what I shall say
Tall trees will bend and buildings sway
And word will spread from mouth to ear
From home to home, from far to near
From them to them from he to she
From near to far to she to he
And they my friends eventually
Those words will come right back to me
And I will hear what I have said
From those whose words I first did say
From thoughts they did not know they had
From the words I spoke first here today.
Thank  you.
Credits
| Role | Contributor |
| --- | --- |
| Presenter | Anita Anand |
| Presenter | JP Devlin |
| Interviewed Guest | Angie Hobbs |
| Interviewed Guest | Murray Lachlan Young |
| Interviewed Guest | Fynnjan Leach-Verhoeven |
| Interviewed Guest | Su Leach-Verhoeven |
| Interviewed Guest | Ted Chance |
| Interviewed Guest | Paul Watson |
| Interviewed Guest | Janet Martin |
| Interviewed Guest | Andy Miller |
| Producer | Dixi Stewart |