Nigel Slater; Evan Davis; Puppini Sisters
Jane and Jenni open up the Woman's Hour studio and invite you in to spend Christmas morning with them and other Radio 4 presenters Evan Davis, John Humphrys and Sheila Dillon. They're joined by Nigel Slater to give last-minute tips for a tasty Christmas dinner. Gyles Brandreth leads the party games, while Victoria Moore gives advice on some cocktails to help the day go with a swing and there's music from the Puppini Sisters. We'll also be hearing from the woman in charge of a British Antarctic Survey research base about her Christmas at the South Pole and we visit The Reverend Canon Katrina Scott at her parish in Coventry. And David Attenborough introduces Tweet of the Day...the robin.
Presenters: Jane Garvey and Jenni Murray
Producer: Steven Williams
Output Editor: Jane Thurlow.
Last on
Woman's Hour Christmas Day programme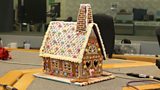 Victoria Moore's Cocktail Recipes
The Bramhope
50ml Rum (I use golden rum)
Clementine Juice
Lime Juice
Gomme (sugar syrup made with equal quantities of sugar and water, boil then let it cool)
Dash of bitters ( I use Angostura)
Put all the ingredients into a cocktail shaker with ice and shake hard, then strain and serve.
Champagne Cocktail
Place a sugar lump in a glass, soak with bitters, pour in just enough cognac to cover the sugar, then top up with Champange. Be careful, when the Champagne hits the sugar as it will foam. Finish with a strip of ornage zest.   
Alcohol free Elderflower Cocktail
Mix elderflower cordial with water, top up with pink grapefruit juice.
Nigel Slater's Christmas cookery tips
Sprouts
Slice sprouts in half and put them cut side down in a pan. Add some butter and put them on a low heat. Add bacon fat and cook very slowly for 30 -40 minutes until done. The sprouts will soak up the fat and taste delicious. Add chestnuts, bacon or almonds if you like them.
Red Cabbage
This is an ideal accompaniment to goose. To stop it becoming too sweet I add a couple of lightly crushed juniper berries.
First shred your red cabbage, add some butter to a pan and when it is hot add the cabbage and crushed junpier berries. Let it sizzle for a moment the add some apple juice for a little sweetness and cook until done to your liking.

Brandy Butter
Ingredients:  
Equal weights of butter and icing sugar
Brandy
Zest of a clementine and a lemon
Cut the butter into small pieces, making sure that it is soft. Add the sugar and a little brandy - not too much or it will curdle and taste bitter. Finally grate the clementine and lemon zest. Beat the ingredients together, the more you beat them, the lighter your butter will be.

Nigel's alertnative to Christmas Pudding
Get some tropical fruits, maybe mangoes, papaya or star star fruits. Make a sugar syrup, taking equal quantities of sugar and water, add a star anise then heat until sugar and water are combined, then cool. Puts the fruits in and let them soak for at least 30 mins or longer, remove the star anise and serve. Quick, delicious and refeshing.
Credits
| Role | Contributor |
| --- | --- |
| Presenter | Jenni Murray |
| Presenter | Jane Garvey |
| Interviewed Guest | Nigel Slater |
| Interviewed Guest | Evan Davis |
| Interviewed Guest | John Humphrys |
| Interviewed Guest | Gyles Brandreth |
| Interviewed Guest | Saethryd Brandreth |
| Interviewed Guest | Victoria Moore |
| Interviewed Guest | Sheila Dillon |
| Interviewed Guest | Rev Katrina Scott |
| Interviewed Guest | Agnieszka Fryckowska |
| Interviewed Guest | Puppini Sisters |
| Producer | Steven Williams |
| Producer | Jane Thurlow |