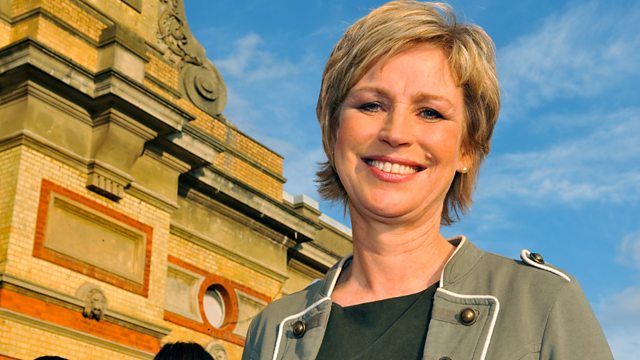 Young Voices
Sally Magnusson meets young people in Wigan on a mission to get the town singing for Christmas, and schoolchildren who are putting faith first. She introduces candlelit carols from St Oswald and St Edmund Arrowsmith RC Church, accompanied by talented young musicians.
Last on
Factsheet for Sunday 15th December 2013
Young Voices: Sally Magnusson meets young people in Wigan on a mission to get the town singing for Christmas and schoolchildren who are putting faith first.  S he introduces candlelit carols from St Oswald and St Edmund Arrowsmith RC Church, accompanied by talented young musicians. 
INTERVIEWEES
Joshua Hales
Josh is the organist for this week's programme. He first became interested in becoming a musician through the Wigan Council Music Service. He's 23 and studied music at Exeter College, Oxford. Despite not coming from a Christian or musical family, he now has a deep-rooted faith, and finds meaning and inspiration in the hymns and psalms he plays.
IMPACT group at St Edmund Arrowsmith Catholic High School
The IMPACT group  (Involving More People at Church Today) is made up of around 120 school pupils aged 11 to 16.  The group meet at school to discuss what they'd like from their mass. They choose the hymns, readings and music and also come up with imaginative fundraising ideas. We are given an insight into the group by Callum, one if the pupils and our brave reporter. 
Georgina
Georgina is a 16-year-old student who lost her father to a rare form of cancer earlier this year.
She tells Sally about him, the final moments they had together, and the challenges of facing life since his death. She is facing the future with hope. She achieved brilliant GCSE exam results despite her bereavement, and has ambitious plans for a future where she can help others like her dad.
TwoTwenty Youth
Two Twenty Youth is a group of young teenagers who come together and enjoy themselves on a Friday night.  Its part of Today's Community Church, which is based in Wigan. We meet Emma and Nick, two of its members who are passionate about the group and about their relationship with God. We see them out in Wigan High Street giving out free sweets and free hugs, as well as a Christmas message for all they meet.
Flashmob
As well as organising their own mass, the IMPACT group from St Edmund Arrowsmith High School have ambitions to get Wigan singing for Christmas. They want to do their own festive Flashmob, right amongst the Christmas shoppers in the middle of Wigan town centre. But can they do it?
MUSIC
The First Nowell
The spelling of the The First Nowell is correct and widely accepted. 'Nowell' is the historically accurate spelling - and is used in the official Songs of Praise hymnbook, our main guide for the on-screen words. Here is an explanation for the dual spelling:
The carol is unknown in origin but is generally thought to be English, dating back to the sixteenth century. There is a misconception that it was French and it is believed that this is because of the French spelling of Noel - as opposed to the olde English Anglo-Saxon spelling of the word - Nowell. After the Normans captured England, numerous words were adopted from the Norman French language and Noel was re-spelt as Nowell.
Early printed versions of this carol use the Nowell spelling. The carol was first published in 1833 when it appeared in "Christmas Carols Ancient and Modern," a collection of seasonal carols gathered by William B. Sandys.
Louisa Stirland
Louisa was one of the BBC Radio 2's Young Choristers of the Year 2012. Since winning the prestigious trophy she has sung for Prime Minister David Cameron at 10 Downing Street, on BBC television and radio, with the BBC Philharmonic and in numerous charity concerts. The former Blackburn Cathedral chorister even found time to sit her GCSE exams!
Songs of Praise is her first engagement since stepping down as Young Chorister and Louisa hopes to study at a music college in London before becoming an opera singer.
Young Vox
Young Vox is a new group that gives youngsters from 7 to 16 the chance to sing all types of music, from contemporary pop to classical and musical theatre. It features the youngest singers from Vox Aurum, a group of choirs run in Wigan by Deborah Catterall.
Each week the youngsters rehearse and receive help on reading music for themselves and in voice and choral work, with an emphasis on the joy of singing. So far in 2013 they have staged songs from Enchanted and West Side Story as well as learned to sing in Italian, Spanish and French.
Credits
| Role | Contributor |
| --- | --- |
| Presenter | Sally Magnusson |
| Producer | Karen Hannah |
| Series Editor | David Taviner |
| Executive Producer | Tommy Nagra |
Songs of Praise want YOUR stories