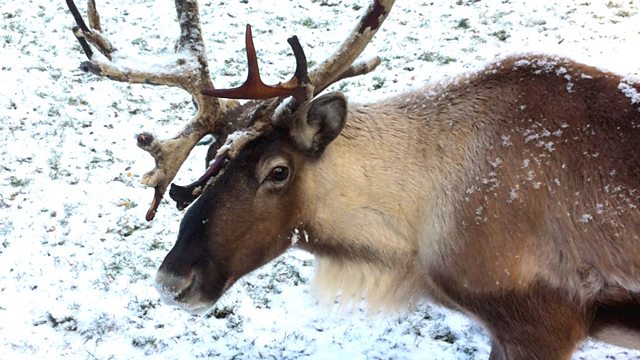 Reindeer Herd
Listen in pop-out player
In 1952, a herd of reindeer from Scandinavia was brought to live in the Cairngorms, a habitat remarkably close to the one they left behind. Today, the herd is 150-strong, still roaming the hills, and teams of specially-trained 'Christmas reindeer' become an integral part of many families' festivities at this time of year, travelling from their home near Aviemore to make public appearances around the country. Caz Graham greets one team as they return to the hills and hears how their temperament and training allow them to greet excited Christmas crowds and hostile winter conditions with the same patient equanimity.
Reindeer herding is in the blood for the family which owns and manages them: Tilly and Alan Smith have worked with the reindeer for well over thirty years, and bought the herd after the death of the original owners, Dr Ethel Lindgren and Mikel Utsi. Now their daughter Fiona and son Alex are continuing the tradition: it's as if, says Fiona, a giant bungee drags her back whenever she goes away. This won't be hard to understand for those visitors who bring their children to glimpse the reindeer which, they hope, might pull Santa's sleigh towards their homes on Christmas Eve: the only difficulty for Tilly's staff comes when those children ask how reindeer fly ...
Presented by Caz Graham and produced by Moira Hickey.
Last on
Caz Graham with a specially-trained 'Christmas reindeer'