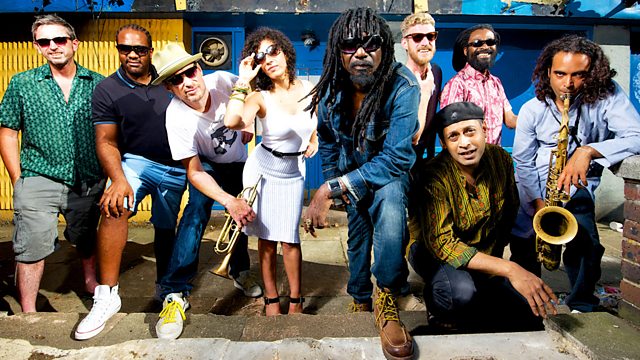 Soothsayers with Cornell Campbell in Session
Sounds from around the world, plus a studio session by a new collective made up of the sweet-voiced Jamaican Cornell Campbell and the London-based Afro-dub collective, Soothsayers. With Lopa Kothari.
The pairing of sweet-voiced Jamaican Cornell Campbell and the London-based reggae and Afro-dub collective, Soothsayers (led by Robin Hopcraft and Idris Rahman), first took shape through a chance meeting between Cornell Campbell and Hopcraft in Kingston Jamaica early in 2011. A session was arranged at Bunny Lee's recording studio in West Kingston and, within days, the collaboration produced the sweet 'I'll Never Leave', a homage to Cornell's island home of St Elizabeth.
Now signed to Strut, the collaboration has recorded a full album in which the collective revisits Cornell's poignant 1970s sufferer's classic 'Jah Jah Me No Born Yah'. Soothsayers also bring their trademark fusion of influences and move Cornell's sound into bold new directions, adding an African groove to the hard-hitting 'Nothing Can Stop Us'.
The album carries forward the legacy of Campbell's recordings over the last half century, from his early work with "Coxsone" Dodd at Studio One to '70s and '80s classics with Joe Gibbs, Bunny "Striker" Lee, King Tubby and Winston "Niney" Observer. For Soothsayers, the album is the culmination of ten years leading the London live scene. Comprising musicians that have played with many top artists including Mulatu Astatke, Jerry Dammers' Spatial AKA Arkestra and Hugh Masekela, the band are known for their collaborations with Johnny Clarke, Maxi Jazz (Faithless), Keziah Jones and more, and form the nucleus of the band that backed the London leg of the 'Fela!' musical during 2011.
Last on
BBC Introducing on World on 3
World Music chart-toppers...