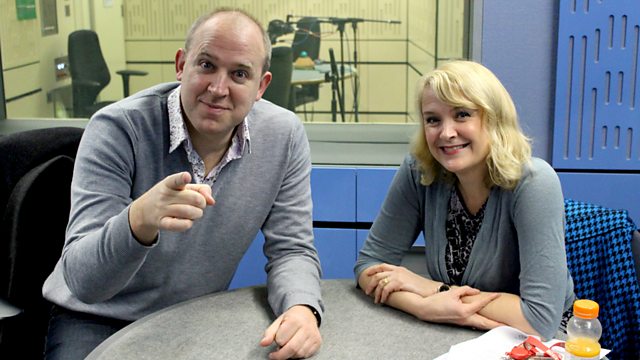 Friday - Sarah Walker with Tim Vine
Sarah Walker's guest this week is comic actor and master of the one-liner, Tim Vine.
9am
A selection of music, including the Essential CD of the Week: Corelli Trio Sonatas from Op.1 and Op.2 - The Purcell Quartet, Robert Woolley (harpsichord/organ) and Jakob Lindberg (theorbo/archlute), CHANDOS: CHAN 0515. We also have our daily brainteaser at 9.30.
10am
Artists of the Week: Vienna Philharmonic Orchestra
During the week of the New Year's Day concert from the Musikverein, Essential Classics celebrates the Vienna Philharmonic, with recordings of music from Mozart to Mussorgsky.
10.30am
Sarah's guest this week is the writer, stand-up comedian and comic actor, Tim Vine. Tim is best known for his role in the BBC series Not Going Out, where he starred alongside Lee Mack. His stand-up act consists primarily of quick-fire one-liners and puns, and in 2010 he won the award for best joke at the Edinburgh Fringe Festival: "I've just been on a once-in-a-lifetime holiday. I'll tell you what, never again." His comedy tours include Current Puns, Punslinger and more recently, The Joke-amotive. In 2004 he broke the Guinness World Record for the most jokes told in an hour with 499 ? a record he held until May 2005. He has written several joke books, including The Tim Vine Bumper Book of Silliness, published earlier this year. Tim is the brother of the journalist and BBC Radio 2 presenter, Jeremy Vine.
11am: Daniel Barenboim conducting...
Daniel Barenboim conducted the New Year's Day concert from Vienna on Wednesday, and Sarah will be showcasing his work with other world famous orchestras in her Essential Choice slot.
Sarah's Essential Choice
Debussy
Prelude a l'apres-midi d'un faune
Paris Orchestra
Daniel Barenboim (conductor)
Liszt
Les Preludes
West-Eastern Divan Orchestra
Daniel Barenboim (conductor).
Last on