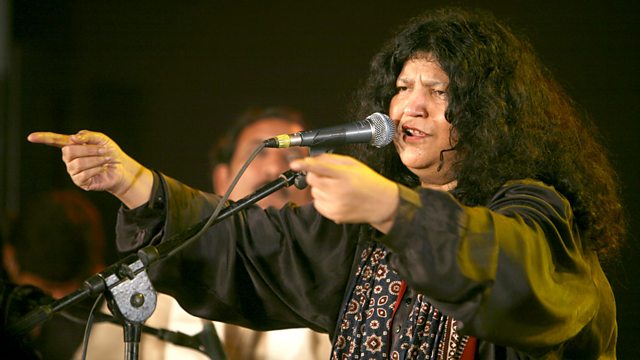 Abida Parveen in Concert
Lopa Kothari introduces a concert by Pakistani Sufi legend Abida Parveen, part of the Manchester International Festival 2013.
This Bridgewater Hall concert was Abida Parveen's first appearance in the UK for a decade, a much-anticipated event for her many UK devotees. She is regarded as one of the leading singers of Sufi music, a devotional Islamic music which claims to bring its followers to a spiritual ecstasy and a oneness with the Divine. Her appeal also goes far beyond her fans - the critic of the Manchester Evening News wrote of this concert, "As soon as she started singing, Parveen's extraordinary voice transcended language and cultural barriers. Such is the power and strength of this woman's vocal cords you don't need to know about Sufism or understand the languages she sings in to appreciate an amazing gift.".
Last on
Seven pioneering figures in world music
BBC Introducing on World on 3