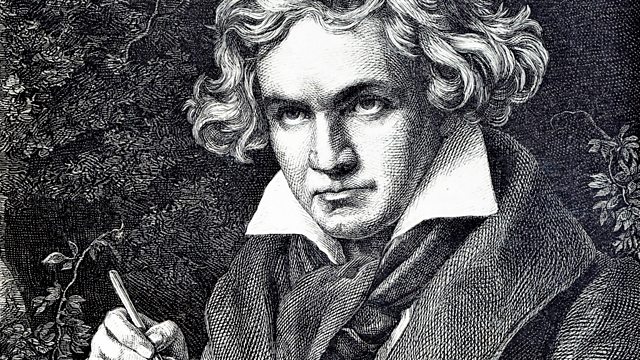 In today's programme, Donald Macleod unpicks the overlapping origins of three late Beethoven masterpieces: the Missa Solemnis, the Diabelli Variations and the 9th Symphony.
If Bonn had had a child protection unit in the 1770s, its officers would doubtless have been frequent callers at 24 Rheingasse, the Beethoven family home. A neighbour might have heard little Ludwig calling out from the cellar where he had been locked up by his drunkard father Johann, or witnessed one of the regular beatings Johann administered to 'encourage' his son to practice the piano. Yet from this abusive background, Ludwig van Beethoven emerged as the greatest musician of his age - the composer who absorbed the Classical legacy of Haydn and Mozart, then utterly transformed it. This week, Donald Macleod charts the course of this transformation in a series of five snapshots of Beethoven's life and work, from his first attempts at composition to the extraordinary productions of his final years.
Today's programme picks up the trail in the early months of 1819, with Beethoven planning to write a High Mass for the installation of his patron and pupil, Archduke Rudolph, as Archbishop of Olmütz the following March. In the event, the scale of the work grew so far beyond his original conception that Beethoven overshot his self-imposed deadline by three years. Meanwhile, another commission had come along. The publisher, Anton Diabelli, wanted to bring out a patriotic collection of piano variations on a light-hearted waltz of his own composition, to be contributed by the 50 most celebrated composers and virtuosi of the Austrian empire. Each composer was to provide a single variation, Beethoven included. Something about the project evidently fascinated him because, instead of one variation, he ultimately came up with 33 - his largest and many would say greatest piano work. So he broke off work on the mass to write the first two-thirds of the Diabellis. He then set those aside for another new commission, to compose three more piano sonatas; they would be his last. Only then, in 1822, did he return to the mass, when he also started work on the 9th Symphony. That too was set aside while he completed the Diabelli Variations, after which he polished off the 9th. Confused? You won't be after today's show.
Last on
More episodes
Next
You are at the last episode