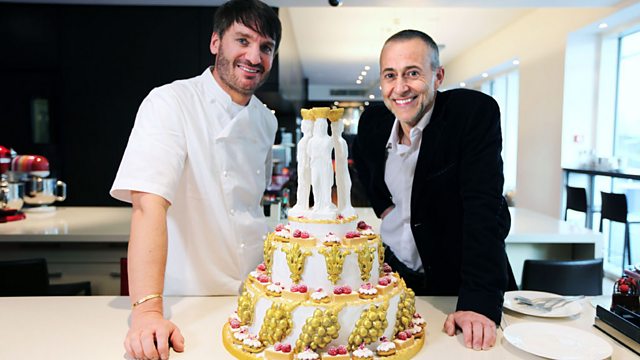 Patisserie with Michel Roux Jr
Documentary in which Michel Roux Jr goes back to his own beginnings to explore the art, science and eternal attraction of the perfect sweet delicacy. Part history, part gastronomy but completely seductive, the film looks at our love affair with pastry and patisserie. From childhood favourites to incredible gravitydefying greats like wedding croquembouche, and reconstructed historic pieces-montées, strange ancient recipes and incredible modern creations, Michel bears witness to the creation of sweet perfection.
It begins with Michel delving into the sweet world of high fashion, discovering how patissiers are positioning themselves as luxury brands, food fashion houses. He talks to Pierre Hermé, dubbed the 'Dior of Desserts', the man behind this marriage of fashion and patisserie and find out how cakes have become haute couture and what it is about the jewel-like macaroons that Paris creates that has so captivated the world.
He visits Hermé's kitchens as well as Philippe Conticini with his 'Pastry Shop of Dreams', where he discovers the precision, personality and brilliance that go into their gourmet triumphs.
Michel traces the history of French patisserie from the first great chef Antoine Carême, who created incredible scale models of Parisian landmarks out of marzipan, spun sugar and pastry, to the magic and myth of the croissant, a single breakfast staple whose origins are shrouded in symbolism and still keenly fought over.
Michel also explores how the innovative pastry chefs in France have been influential in the UK. William Curley is a master patissier and chocolatier. Just like the pastry chefs or Paris, Curley is a true innovator, pushing the boundaries of flavour and texture in his creations. His Japanese wife and collaborator has influenced many of the flavours in his recipes. Most recently Curley created a collection of cakes inspired by designer dresses. Just like in France, patisserie is being seen in terms of style, fashion and art.
And from his journey round the history, culture and science of patisserie, Michel takes what he has learnt back to his own cooking and his own kitchen. He wants his apprentices to learn how to make some of the most incredible feats and feasts of patisserie and makes an enormous croquembouche, which he serves up to sweet-toothed connoisseurs, friends and lucky guests.
Throughout the documentary, a true labour of love for Michel, he tastes, bakes, explores and discovers the power of patisserie. How these sweet delicacies, that are without any discernible utility, are still something that we both desire and need in our lives. Patisserie is unashamedly about pleasure and without it Michel feels that we would only live half a life. Talking about his patisserie passion, Michel is at his most evangelical - after all, it's not for nothing that Proust's masterpiece hangs on the memory of a perfect madeleine.
Credits
| Role | Contributor |
| --- | --- |
| Presenter | Michel Roux Jr |
| Producer | Anna Thomson |
| Director | Anna Thomson |
| Writer | Anna Thomson |
| Executive Producer | Claire Whalley |
| Executive Producer | Nancy Bornat |