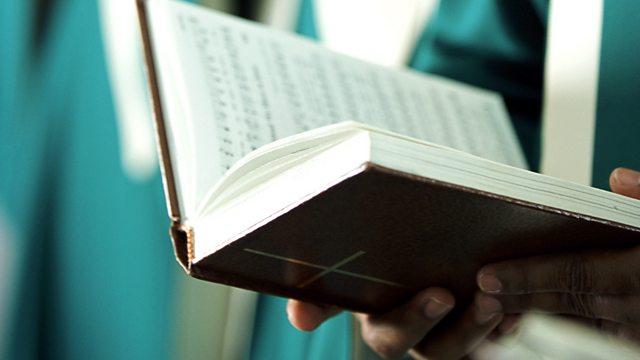 19/12/2013
A space for spiritual reflection with a bible reading, prayer and a range of Christian music.
Theme: The coming of Christ as Judge
Led by Claire Campbell Smith
The Lord will come and not be slow (St. Stephen)
Matthew 25:31-40
Hosanna to the Son of David (Weelkes)
Judge eternal, throned in splendour (Rhuddlan)
Director of Music: Richard Tanner.
Organist: Jeffrey Makinson.
This morning the service comes live from Emmanuel Church Didsbury, the home of the Daily Service. The Daily Service Singers are a group of musicians based in the North West who come together for this live transmission. Many are church musicians who love contributing to this unique Radio 4 act of worship.
Last on
Judgement of the King - led by Claire Campbell Smith
Judgement of the King
Presenter: Claire Campbell Smith
(Matthew 25:31-40)
When the Son of Man comes in his glory, and all the angels with him, then he will sit on the throne of his glory. All the nations will be gathered before him, and he will separate people one from another as a shepherd separates the sheep from the goats, and he will put the sheep at his right hand and the goats at the left. Then the king will say to those at his right hand, "Come, you that are blessed by my Father, inherit the kingdom prepared for you from the foundation of the world; for I was hungry and you gave me food, I was thirsty and you gave me something to drink, I was a stranger and you welcomed me, I was naked and you gave me clothing, I was sick and you took care of me, I was in prison and you visited me." Then the righteous will answer him, "Lord, when was it that we saw you hungry and gave you food, or thirsty and gave you something to drink? And when was it that we saw you a stranger and welcomed you, or naked and gave you clothing? And when was it that we saw you sick or in prison and visited you?" And the king will answer them, "Truly I tell you, just as you did it to one of the least of these who are members of my family, you did it to me."
The envelope was ominous - it bore the stamp of the local constabulary – and so I opened it with trepidation.  It was what I feared.  I knew I'd been doing a few more miles an hour than I should have been as I passed the mobile speed camera.  And here, in the letter, was the irrefutable evidence, caught in a black and white photo.  It was a cut-and-dried case and I'd been judged.  I would need to pay the penalty.
Nobody could claim that the Bible's teaching is any less ambiguous.  Today's passage from Matthew's Gospel is perhaps one of the hardest pieces of all Bible teaching.  It's easy to support our friends but how easy will it be this Christmas to welcome the stranger or the person with whom we don't see eye-to-eye?  And there's no wiggle room because the passage comes with an explicit notice that eventually we will all be judged by the King of Glory.  The blessing, however, is that Jesus, the Great Shepherd, intercedes for each of us and, according to Psalm 103, our Lord "is merciful and gracious, slow to anger and abounding in steadfast love".
Featured in...
Join Sunday Worship and the Daily Service as they celebrate the season of Advent.