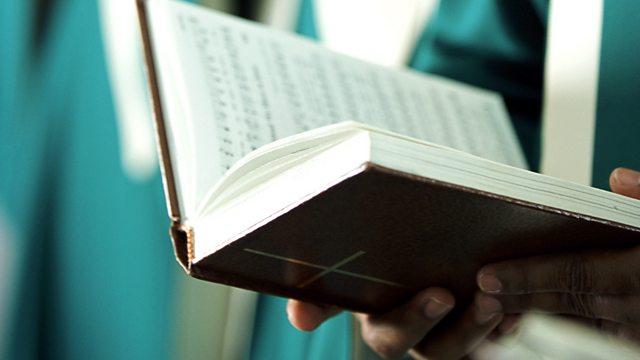 18/12/2013
A space for spiritual reflection with a bible reading, prayer and a range of Christian music.
Theme: The coming of Christ as Judge
Led by Canon Stephen Shipley.
Wake, O wake with tidings thrilling (Wachet auf)
1 thessalonians 5:1-11
Purest and highest (Stanford)
Christ be our light (Farrell)
With the Chamber Choir of St George's College, Weybridge
Director of Music: Tansy Castledine.
Organist: Richard Tanner.
This morning the service comes live from Emmanuel Church Didsbury, the home of the Daily Service.
Last on
Children of the day or of the night? - led by Canon Stephen Shipley
Children of the day or of the night?
Presenter: Canon Stephen Shipley
1 Thessalonians 5:1-11
Now concerning the times and the seasons, brothers and sisters, you do not need to have anything written to you. For you yourselves know very well that the day of the Lord will come like a thief in the night. When they say, 'There is peace and security', then sudden destruction will come upon them, as labour pains come upon a pregnant woman, and there will be no escape! But you, beloved, are not in darkness, for that day to surprise you like a thief; for you are all children of light and children of the day; we are not of the night or of darkness. So then, let us not fall asleep as others do, but let us keep awake and be sober; for those who sleep sleep at night, and those who are drunk get drunk at night. But since we belong to the day, let us be sober, and put on the breastplate of faith and love, and for a helmet the hope of salvation. For God has destined us not for wrath but for obtaining salvation through our Lord Jesus Christ, who died for us, so that whether we are awake or asleep we may live with him. Therefore encourage one another and build up each other, as indeed you are doing.
How are your preparations for Christmas going?  There's only a week to go.  Some will have it all so well planned out by now, with the presents bought and wrapped, the Christmas Day visitors booked and the turkey timings done.  Others of us, though, won't have thought beyond the end of this week and will probably be rushing around on Christmas Eve still hoping to find the perfect gift for Aunt Agatha and cousin Tim.  That's, of course, the advantage when we know the time and place of an event.  Even if it's all left very late, we know when the preparations need to be complete.
But what would happen if, this year, with a loud trumpet call, the angels really did appear heralding Jesus, the eternal judge, coming on the clouds of heaven?  And not on Christmas Day but at the end of this week!  How many of us would have our hearts and minds ready for that possibility?
Featured in...
Join Sunday Worship and the Daily Service as they celebrate the season of Advent.