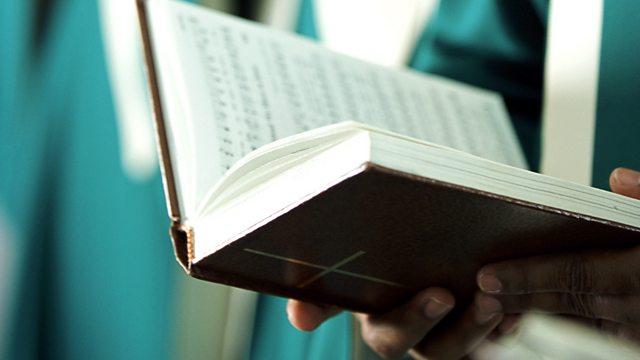 16/12/2013
A space for spiritual reflection with a bible reading, prayer and a range of Christian music.
Theme: The coming of Christ as Judge
Led by the Rev Tony Burnham.
The advent of our God (St. Thomas)
Malachi 3:1-5
And the glory of the Lord (Handel)
Purify my heart (Doerksen)
With the Chamber Choir of St George's College, Weybridge
Director of Music: Tansy Castledine.
Organist: Richard Tanner.
This morning the service comes live from Emmanuel Church Didsbury, the home of the Daily Service.
Last on
Who can endure the day of his coming? - led by the Revd Tony Burnham
Who can endure the day of his coming?
Presenter: Rev Tony Burnham
Malachi 3:1-5
See, I am sending my messenger to prepare the way before me, and the Lord whom you seek will suddenly come to his temple. The messenger of the covenant in whom you delight—indeed, he is coming, says the Lord of hosts. But who can endure the day of his coming, and who can stand when he appears?
For he is like a refiner's fire and like fullers' soap; he will sit as a refiner and purifier of silver, and he will purify the descendants of Levi and refine them like gold and silver, until they present offerings to the Lord in righteousness. Then the offering of Judah and Jerusalem will be pleasing to the Lord as in the days of old and as in former years.
Then I will draw near to you for judgement; I will be swift to bear witness against the sorcerers, against the adulterers, against those who swear falsely, against those who oppress the hired workers in their wages, the widow, and the orphan, against those who thrust aside the alien, and do not fear me, says the Lord of hosts.
It's hard to imagine Fred Astaire with two left feet, but there he is, in the 1936 film 'Swing Time', being encouraged by Ginger Rogers to pick himself up, dust himself off, and start all over again.  It's a recommendation I frequently remind myself of in life and, indeed, when I'm exploring the Bible.  All too often I feel inadequate as I read God's demands on me as a Christian and all too often I find myself failing in my thoughts, words and deeds.  But it's also heartening to discover that I'm not alone.  The Bible records the way in which, through the ages, God has chosen people from all walks of life and of all capabilities to share his message of love and mercy.  And, at some stage or other, all have failed in the heat of the refiner's fire and have had to renew their relationship with the God of love before starting all over again.  It's something I find myself having to do much more than once a day!
Featured in...
Join Sunday Worship and the Daily Service as they celebrate the season of Advent.