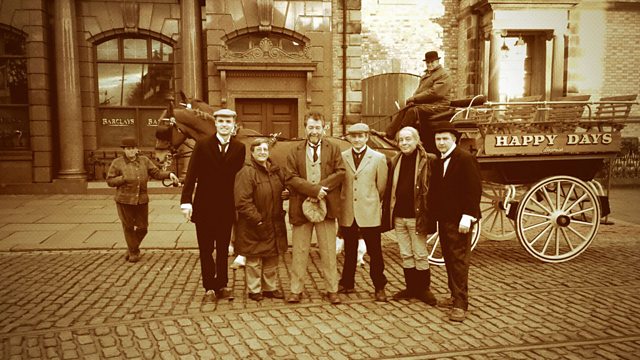 1870s Special at Beamish
Listen in pop-out player
Eric Robson chairs a special 1870s themed episode of GQT from Beamish, The Living Museum of the North. Answering the audience's historical gardening questions are Chris Beardshaw, Bob Flowerdew and Christine Walkden.
The panel travels back in time to explore a fascinating moment in the horticultural history which still influences the way in which we garden today. Eric Robson visits Gravetye Manor to find out how William Robinson's influential book, The Wild Garden, set English gardening on a new and exciting course.
Produced by Howard Shannon
Assistant Producer: Darby Dorras
A Somethin' Else production for BBC Radio 4
This week's questions:
Q. Could the panel make some recommendations for plants and flowers to be used in gentlemen's buttonholes and ladies' personal adornment?
A. Flowers with bells look very attractive, such as the highly fragrant Lily of the Valley. Similarly, London Pride provides white and pink bells and can be contrasted with Ivy leaves. For gentlemen, the Rose is a very popular buttonhole. You can also try Ixia in electric blue. It usually grows in Africa, so it would need a hot, sunny position and you may need to lift the bulb at the back end. The fragrant navy blue Lord Nelson Sweet Pea also works well as a beautiful buttonhole.
Q. Could the panel recommend fruits and vegetables that require little attention but provide good results?
A. Try growing the climbing Nasturtium Tropaeolum Tuberosum. It is easy to grow and an attractive specimen. All you need to do is to plant and lift it. Plant the tubers in April at about 4 inches (10cm) deep. The clover-like growth will get to about 6ft (1.8m) tall and produce yellow and orange flowers throughout the summer. Let the first frost get to it and then dig up the tubers. Skirrets grow well on dry, impoverished soil. Sow them out in March, giving them plenty of space. Again, allow the frost to affect them and leave the roots to sit in the ground. They are similar to Jerusalem Artichokes in appearance.
Last on